Surry Hydraulic Improvements and Sewer Installation
Body
HRSD, your regional wastewater treatment utility, is planning sanitary sewer system improvements to your community. The entire project includes pipelines, new pump stations, and a storage tank. The pipelines and pump stations will bring sewage flows generated in the Town of Surry and vicinity to the existing HRSD pipe located in Smithfield. The existing Town Wastewater Treatment Plant will be replaced with a new pump station. A storage tank will be placed at the existing pump station at the Surry West Industrial Park, and the existing pump station will be upgraded. The pipeline will be located along a Dominion Virginia Power easement, VDOT roads in existing rights-of-way and easements. The Contractor will maintain a clean worksite and minimize traffic disruption. The answers to some Frequently Asked Questions (FAQs) are provided here.
Project Overview
The project is located in Surry and Isle of Wight counties and the Town of Smithfield and will be completed over four sections:
Section 1 includes installation of a new pump station at the current Town of Surry Wastewater Treatment Plant site at the end of Connie Drive and a buried pipeline from the treatment plant along Rolfe Highway to the intersection of Rolfe Highway and Colonial Trail West.
Section 2 includes installation of a buried pipe that begins at Marina Drive and goes to the northern edge of town and is located along Rolfe Highway.
Section 3 includes pump stations and buried pipes and begins at the Surry West Industrial Park located along the Dominion Energy Easement between the Surry West Industrial Park and Colonial Trail East, and along Colonial Trail East and Route 10 Business to Smithfield. Pump stations will be located at the Surry West Industrial Park, Mt. Ray Drive, and Blounts Corner Road.
Section 4 includes the demolition of the existing Town and County Wastewater Treatment Plants.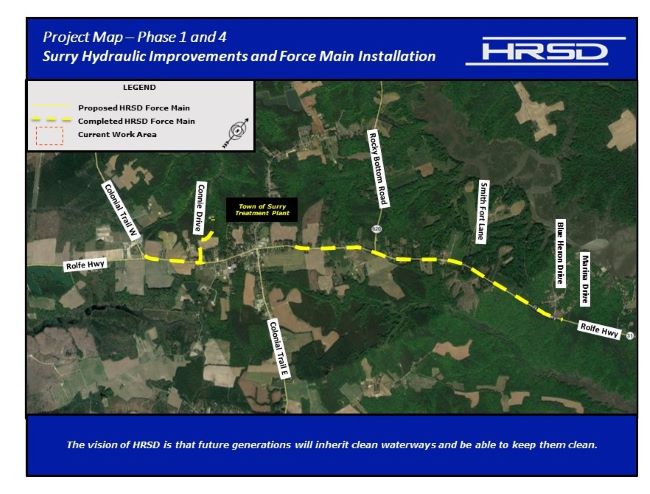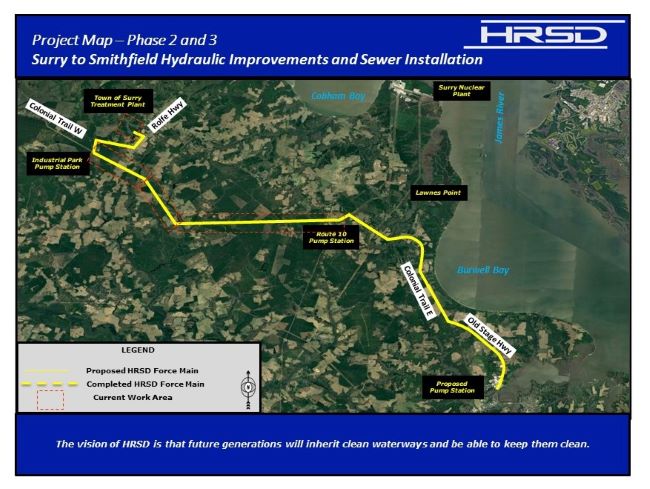 Project Schedule
Construction:
Section 1 - Town of Surry Pipelines and Pump Station: Fall 2019 - Spring 2021
Section 2 - Surry County Pipelines and Pump Stations: Summer 2020 - Spring 2021
Section 3 - Isle of Wight County Pipelines and Pump Station: Spring 2021 - Spring 2022
Section 4 - Demolition of existing Wastewater Treatment Plant: Summer 2022 - Fall 2022
Restoration: Immediately following construction
After reading the FAQs, if you have any questions, concerns, or comments about the project, please feel free to contact Lisa Bolen, HRSD Public Information Specialist, at 757.460.7000 or lbolen@hrsd.com
Thank you for your support of this effort to help achieve HRSD's vision: Future generations will inherit clean waterways and be able to keep them clean.