Wythe Creek Road Sewer Replacement
Body
HRSD, your regional wastewater treatment utility, in coordination with the City of Poquoson, is planning a project in your neighborhood to replace the existing HRSD and City sanitary sewer pipelines and public sewer service connections that are nearing the end of their useful life. This replacement project will also improve the system's performance and ensure continued, reliable sewer service in the future. The answers to some Frequently Asked Questions (FAQs) are provided here.
Project Overview
The project is located within the Wythe Creek Road right-of-way between Carys Chapel Road and north of Huntlandia Way. This project consists of installing approximately 3,700 linear feet of 20-inch HDPE sewer pipe to replace an existing 20-inch concrete sewer pipe that is inactive. A portion of the existing 20-inch sewer pipe will be slip-lined with a 4-inch sewer pipe to provide a replacement connection to the City Pump Station. Slip-lining is when a smaller diameter pipe is installed into a larger diameter pipe. The remaining existing 20-inch concrete pipe will not carry wastewater flow, and it will be abandoned and filled with a cementitious-like material to allow the old pipe to stay safely in place. This allows for less disturbance as the old pipe can stay in the ground rather than being dug up and removed. This project will increase operational flexibility and sewer system reliability. 
Most of the construction activities will be off the road within the VDOT right of way. However, during construction hours, periodic lane closures will be in effect with flagging operations for motorists. We will work with the businesses and residences when an entrance may be disturbed during construction activities.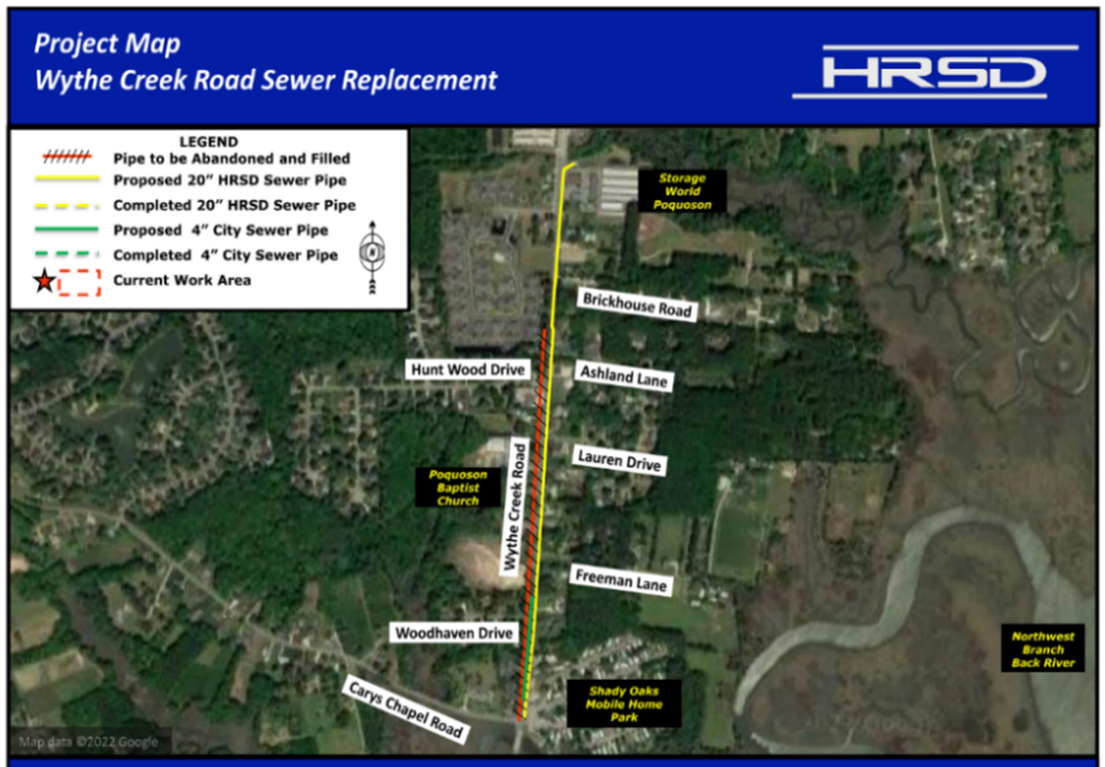 ​
Project Schedule
Staging: April 2022
Construction: Spring 2022- Winter, Early 2023
Restoration: Immediately following construction when seasonable appropriate
Thank you for your support of this effort to help achieve HRSD's vision: Future generations will inherit clean waterways and be able to keep them clean.
You also may visit www.hrsd.com/wythe-creek-road-sewer-replacement for additional information, project updates, and to subscribe to receive an email when the project webpage is updated.