South Norfolk Pump Stations and Sanitary Sewer Replacement Project
Body
HRSD, your regional wastewater treatment utility, is planning a project in your neighborhood to replace aging sanitary sewer pump stations and existing HRSD sanitary sewer pipelines and public sewer service connections that are nearing the end of their useful life. This replacement project will also improve the system's performance and ensure continued, reliable sewer service in the future. The answers to some Frequently Asked Questions (FAQs) are provided here.
Project Overview
In mid-June 2022, HRSD will begin a multi-year project to replace critical aging infrastructure in the South Norfolk community. Using a phased approach, this project will replace two aging sanitary sewer pump stations and their associated sanitary sewer pipes along Park Avenue, Rodgers Street, Byrd Avenue, and Bainbridge Boulevard. For the pump station and sewer pipe locations, please refer to the Project Map below.
Phase 1, the construction of sanitary sewer pipelines, will begin on Park Avenue directly in front of Rena B. Wright Elementary School. Construction will start immediately following the end of the school year in mid-June and will occur Monday – Saturday between the hours of 7 AM – 7 PM. This schedule will allow for contractors to complete work on Park Avenue between Rena B. Wright Elementary School and Bainbridge Boulevard before the 2022/2023 school year begins after Labor Day.  Park Avenue will be reduced to one lane during this time, and parking on Park Avenue will not be allowed. However, access to Porter Street and Perry Street will be maintained. Construction on the new pump station at the corner of Park Avenue and Porter Street will not occur until after the sanitary sewer pipeline construction is complete in front of the elementary school.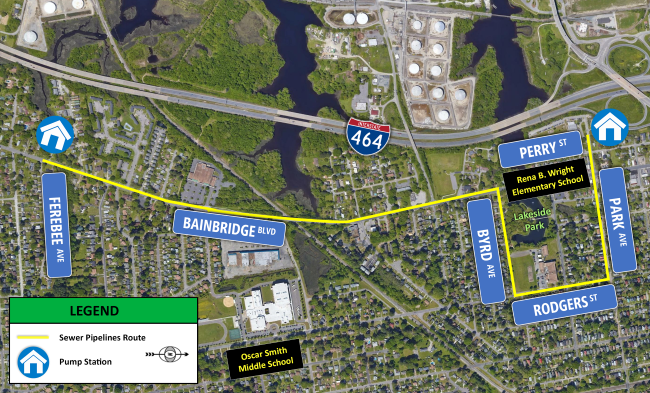 ​Project Schedule
Construction:
Phase 1: (sewer pipeline rehabilitation)
Summer 2022 - Spring 2024
Phase 2: (work on Park Avenue Pump Station property)
Late 2022 - Fall 2024
Restoration: Immediately following construction when seasonably appropriate
Thank you for your support of this effort to help achieve HRSD's vision: Future generations will inherit clean waterways and be able to keep them clean.
You also may visit https://www.hrsd.com/south-norfolk-pump-stations-and-sanitary-sewer-replacement-project for any project updates. If you have any questions, concerns, or comments about the project, please feel free to contact Lisa Bolen, HRSD Public Information Specialist, at 757.460.7000 or LBolen@hrsd.com.