Larchmont Area Sanitary Sewer Improvements Program
Body
A Message To Our Neighbors
Over the next few weeks through the end of December, Precision Measurements, Inc., has been authorized to perform work on behalf of HRSD, your regional wastewater treatment utility, and the City of Norfolk as part of the Larchmont Area Sanitary Sewer Improvements project, a strategic program to replace, upgrade and relocate sanitary sewer pump stations and their connecting pipelines in the Larchmont-Edgewater community.
Precision Measurements, Inc., will perform land surveys and other related tasks to help us plan for new pipelines and pump stations in your neighborhood. All of their work will occur above ground and will not disrupt wastewater service to your property. Surveyors will complete their work within public easements, right-of-ways, or on property adjacent to your property (such as properties owned by HRSD and the City of Norfolk). If work does need to occur on your property, such as in a utility easement, we will reach out to you directly to schedule a date and time for access.
The below map shows the general area in which the survey work will be completed. The colored boxes indicate which streets will be surveyed, but the timing of the work will vary based on contractor progress, weather, and other variables. We estimate that the survey work will be completed by December 31.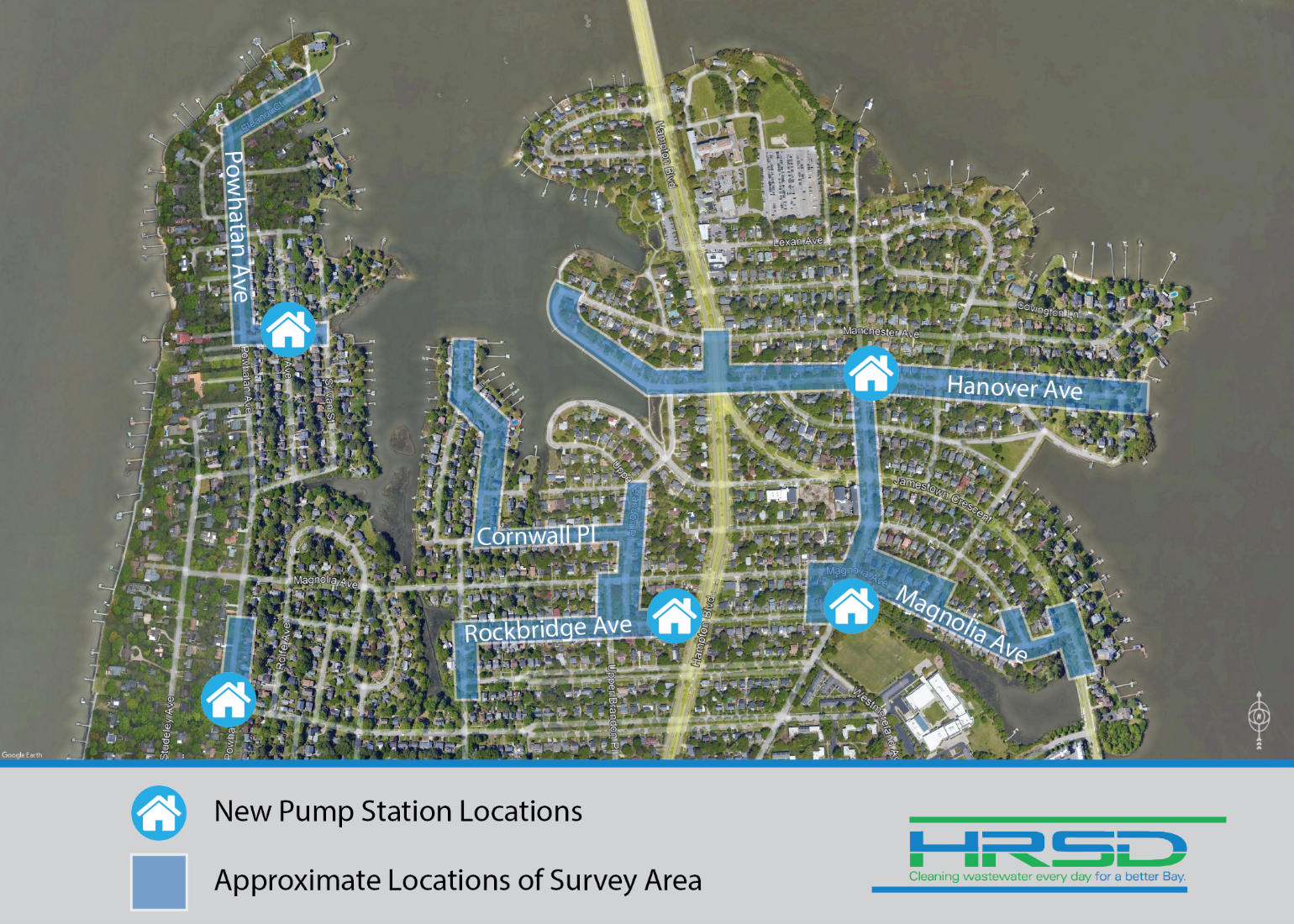 If you have concerns about the presence or performance of any worker while accomplishing these duties on our behalf, you may contact me at 757-460-7000. If you wish to be present during this survey or desire to discuss this effort further, please contact the Project Manager, Holly Anne Matel, at (757) 510-1175 or HMatel@hrsd.com.
For more information about the project, please visit
https://www.hrsd.com/larchmont-area-sanitary-sewer-improvements.
We appreciate your understanding and assistance as we work to improve our system and fulfill HRSD's vision:
Future generations will inherit clean waterways and be able to keep them clean.