Mathews Vacuum Pump Station Replacement
Body
HRSD, your regional wastewater treatment utility, is undertaking the construction of a new vacuum pump station and rehabilitation of pipelines located in your neighborhood as part of a larger, federally-mandated program to reduce the sanitary sewer overflows (SSOs) during rainstorms. The project will also improve the system's performance and ensure continued, reliable sewer service in the future. The answers to some Frequently Asked Questions (FAQs) may be found here.
Project Overview
The existing Mathews Vacuum Pump Station, owned and operated by HRSD, has reached the end of its useful life. The existing pump station has been in service for approximately 44 years and is located at 10888 Buckley Hall Road between Main Street and Chambers Street, adjacent to Put In Creek. The existing pump station will be taken out of service after the new vacuum pump station is completed. The new vacuum pump station, located at 60 Main Street, adjacent to Maughan's Hardware store, will be able to handle the expected growth of Mathews County over the coming years.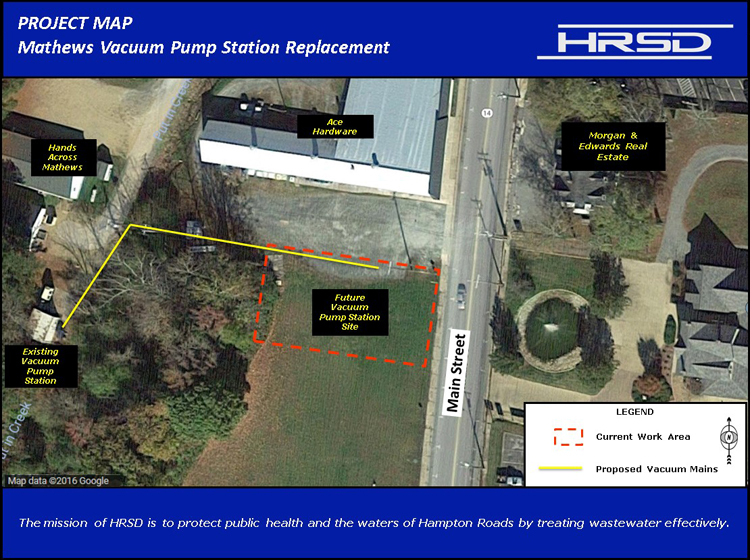 Project Schedule
Staging: April 2019
Construction: Spring 2019 - Summer 2020
Restoration: Immediately following construction
Thank you for your support of this effort to help achieve HRSD's vision: Future generations will inherit clean waterways and be able to keep them clean.
You also may visit www.hrsd.com/mathews-vacuum-pump-station for additional information and project updates.
If you have any questions, concerns or comments about the project, please feel free to contact Lisa Bolen, HRSD Public Information Specialist, at 757.460.7000 or lbolen@hrsd.com.