Virginia Beach Boulevard Pipeline Improvements
Body
Project Overview
The Virginia Beach Boulevard Sanitary Sewer Pipeline Improvement project will replace the existing aging sewer pipeline with a new 42-inch pipeline to move increased sewer flow along Virginia Beach Boulevard from Kings Grant Road to Great Neck Road.  Portions of Virginia Beach Boulevard, intersections from Kings Grant Road to Great Neck Road, Eureka Avenue, and Parker Lane will be impacted at some point throughout construction.
Specific Information for Residents/Business Owners along Westbound Virginia Beach Boulevard near Eureka Avenue: Starting next week, two lanes of traffic will be closed 24/7 along Virginia Beach Boulevard as crews construct a smaller City sewer main that will connect an existing pump station to the new HRSD force main that is currently under construction. This portion of the project work is estimated to last approximately 4 – 6 weeks. Work is weather and situation dependent, and dates are subject to change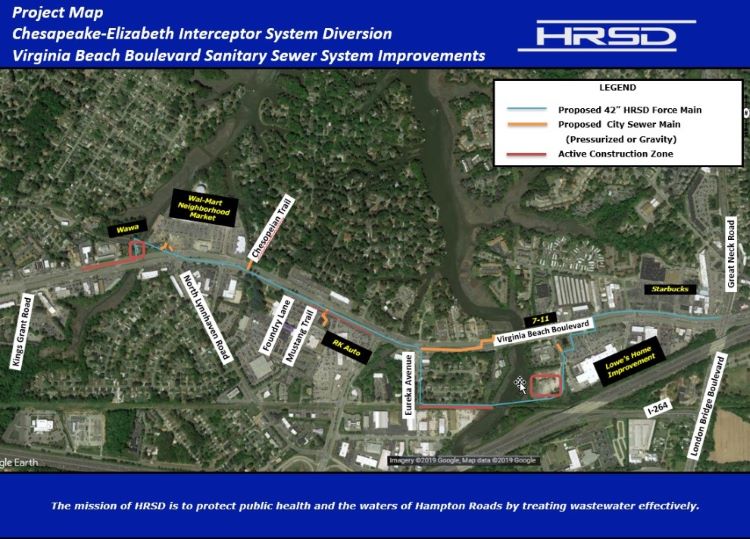 Project Schedule
Staging: November 2019
Construction: November 2019-Winter 2021
Restoration: Immediately following construction
Thank you for your support of this effort to help achieve HRSD's vision: Future generations will inherit clean waterways and be able to keep them clean.
You also may visit www.hrsd.com/virginia-beach-blvd-pipeline-and-pinetree-ps for additional information and project updates.
If you have any questions, concerns or comments about the project, please feel free to contact Lisa Bolen, HRSD Public Information Specialist, at 757.460.7000 or lbolen@hrsd.com.