James River Treatment Plant SWIFT Improvements
Body
-Project Update-

 
HRSD, your regional wastewater treatment utility, is implementing the Sustainable Water Initiative for Tomorrow (SWIFT) Program by constructing the first SWIFT Facility at the James River Treatment Plant to produce a highly-treated water (SWIFT Water®) that meets drinking water standards and is suitable for recharge of the Potomac Aquifer. From the James River SWIFT Facility, HRSD intends to recharge the Potomac Aquifer with up to 16 million gallons a day (mgd) of SWIFT Water®. This Program will help reverse declining groundwater levels, significantly reduce the amount of nutrients such as nitrogen and phosphorus entering the Chesapeake Bay, and may reduce saltwater intrusion and land subsidence, thereby helping to ensure HRSD's ability to protect public health and the environment in alignment with HRSD's Mission and Vision.
These James River Treatment Plant SWIFT Improvements also include multiple separate projects, including recharge well drilling to support aquifer replenishment and approximately two miles of new walking/running trails to enhance Riverview Farm Park. The well drilling will occur at multiple sites within the Riverview Farm Park and James River Treatment Plant. The new trail system will be constructed in two phases.  When all phases are complete the trails will provide connections from Riverview Farm Park to the Menchville Marina; a trail along Flax Mill Creek, the James River, and Deep Creek; interior connectivity; and a link to planned amenities associated with new well house buildings as part of the SWIFT project.
To learn more about SWIFT or to schedule a tour of the SWIFT Research Center (located at HRSD's Nansemond Treatment Plant in Suffolk, VA), please visit www.hrsd.com/swift/.
Project Timeline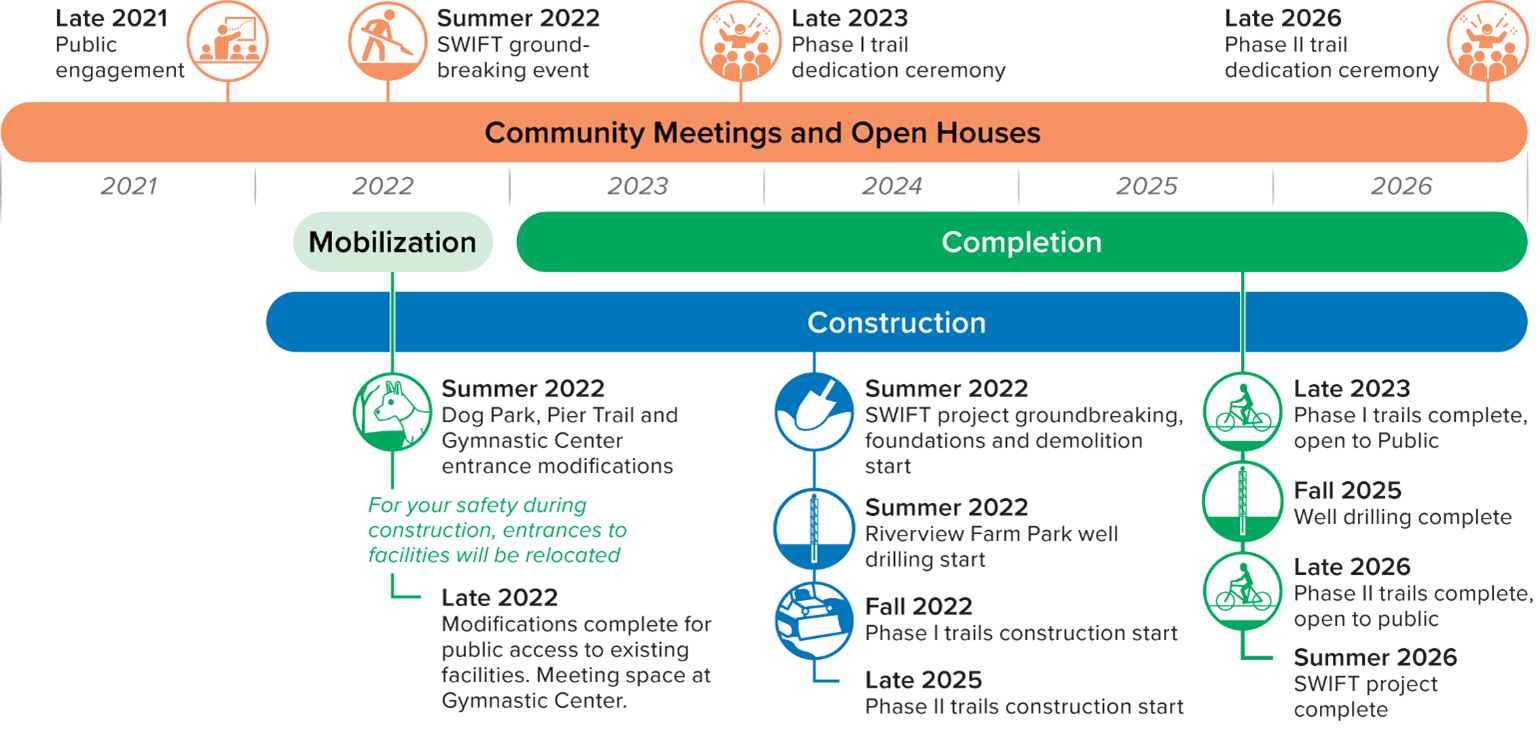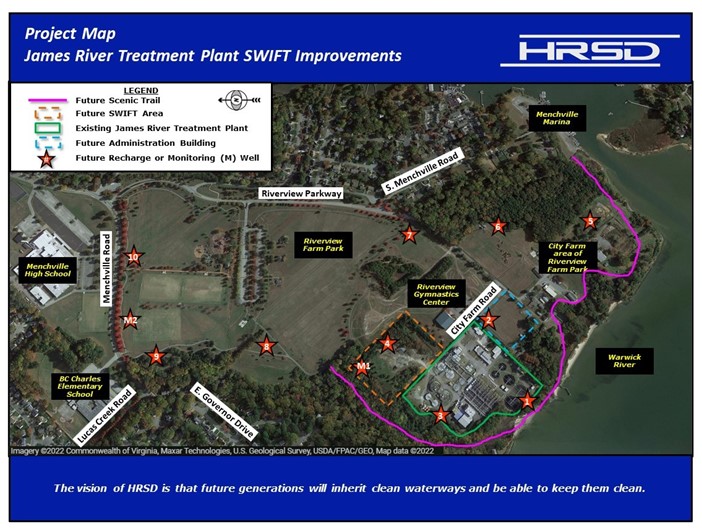 How can I receive regular project updates?
A. Regular project updates are posted on the HRSD website at www.hrsd.com/construction-status. You may also sign up at www.hrsd.com/subscriptions to receive an email notification whenever the website has an update about the project.
If you have any questions or concerns about the project, please feel free to contact Lisa Bolen, HRSD Public Information Specialist, at 757.460.7000 or LBolen@hrsd.com.
Please visit www.hrsd.com/james-river-tp-swift-improvements for additional information, project updates, and Frequently Asked Questions (FAQ's) about the project, well houses in Riverview Farm Park, well drilling, and James River Land Improvements (trails).
Thank you for your support of this effort to help achieve HRSD's vision: Future generations will inherit clean waterways and be able to keep them clean.