Mathews Vacuum Sewer Replacement
Body
In cooperation with the Town of Mathews, HRSD, your regional wastewater treatment utility, is planning to replace sanitary vacuum sewers located in this area as part of a larger, federally-mandated program to reduce the sewage overflows during rainstorms. This project is necessary to increase the reliability and capacity of the vacuum sewage collection system by replacing the undersized, aging infrastructure with new, higher capacity infrastructure. These upgrades will alleviate current and future vacuum pressure issues. The answers to some Frequently Asked Questions (FAQs) Can be found here.  
Project Overview
The project consists of installing 321 linear feet of 6-inch vacuum sewer on Brickbat Road, 984 linear feet on Main Street, and 499 linear feet on Irvinville Road. The project will also include installation of buffer tanks on Brickbat Road and at the Riverside Convalescent Center on Main Street. The public sewer pipes will be repaired within the city right-of-way. If any private sewer pipe is found in need of repair, the owner will be contacted. The contractor will maintain a clean job site and minimize traffic disruption.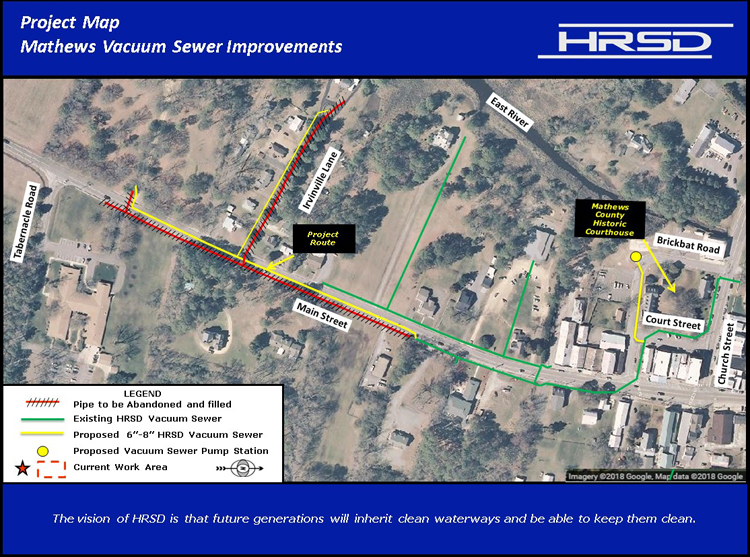 Project Schedule
Construction: October 2019 – Early Winter 2020
Restoration: Immediately following construction
Thank you for your support of this effort to help achieve HRSD's vision: Future generations will inherit clean waterways and be able to keep them clean.
You also may visit www.hrsd.com/construction-status for additional information and project updates.
If you have any questions, concerns or comments about the project, please feel free to contact Lisa Bolen, HRSD Public Information Specialist, at 757.460.7000 or lbolen@hrsd.com.