Jefferson Avenue Sewer Improvements
Body
In cooperation with the City of Newport News, HRSD, your regional wastewater treatment utility, is planning to rehabilitate the existing gravity sewer located in this area as part of a larger, federally-mandated program to reduce the sewage overflows during rainstorms. This project is necessary to increase the reliability and capacity of the sewage collection system by rehabilitating aging infrastructure with cured-in-place pipe. During the process of installing liners, you may notice a plastic, chemical odor from an integral component of the resin used to saturate the liner that is installed into the sewer. This odor will quickly dissipate once the installation process is complete. The answers to some Frequently Asked Questions (FAQs) can be found here.  
Project Overview
The project consists of rehabilitating the existing gravity sewer along Jefferson Avenue, from Sam Walton Way to Parkview Drive and from Arch Street to 50th Street. The sewer rehabilitation method will employ a cured-in-place-pipe (CIPP) lining process which allows the contractor to rehabilitate the existing sewer pipes "in place" rather than a traditional method of replacement which would require complete excavation and replacement of existing pipes, causing extended disruption of streets and surrounding neighborhoods and businesses. The contractor will maintain a clean job site and minimize traffic disruption.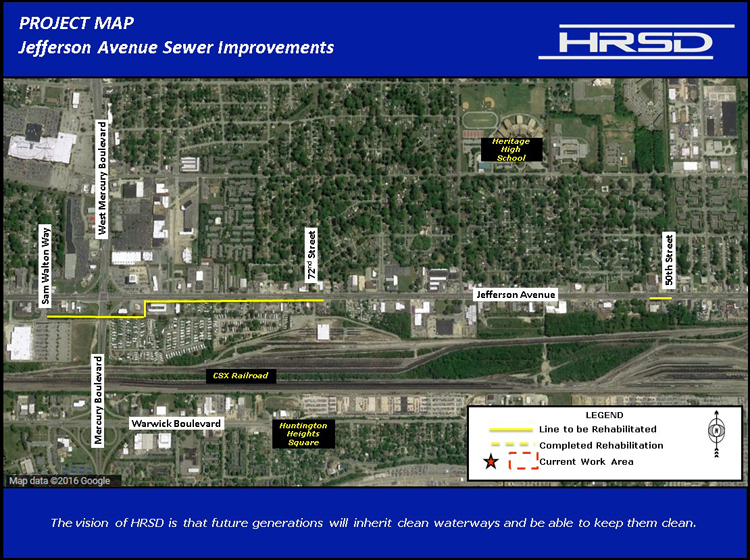 Project Schedule
Construction: October 2019 – Summer 2020
Restoration: Immediately following construction
You also may visit www.hrsd.com/construction-status for additional information and project updates.
If you have any questions, concerns or comments about the project, please feel free to contact Lisa Bolen, HRSD Public Information Specialist, at 757.460.7000 or lbolen@hrsd.com.
Thank you for your support of this effort to help achieve HRSD's vision: Future generations will inherit clean waterways and be able to keep them clean.