Sewer Rehabilitation Project Planned for Portions of Orcutt Avenue and Mercury Boulevard
Body
HRSD is undertaking a project to rehabilitate or replace four miles of gravity sewer pipelines along Orcutt Avenue, Mercury Boulevard, Aberdeen Road and Edgewood Drive in the city of Hampton. This effort will also reduce the risk of sanitary sewer overflows during heavy rain events such as Nor'easters or hurricanes. The project is needed to replace and rehabilitate a pipeline that was built in the 1940s that has reached the end of its useful life.
Project Overview
The work will take place in the public right of way of two main corridors: Mercury Boulevard from Aberdeen Road to Orcutt Avenue and Orcutt Avenue from Todds Lane to Mercury Boulevard. Two types of construction methods will be utilized as needed. The first method, 'trench work', the existing pipeline (replacement work shown in red on the map) will be dug up and replaced with new pipe. The second method, 'trenchless', (rehabilitation work shown in yellow on the map) the existing pipeline will be lined and accomplished without digging. All work will require a surrounding work zone within the right of way and roadway for safety.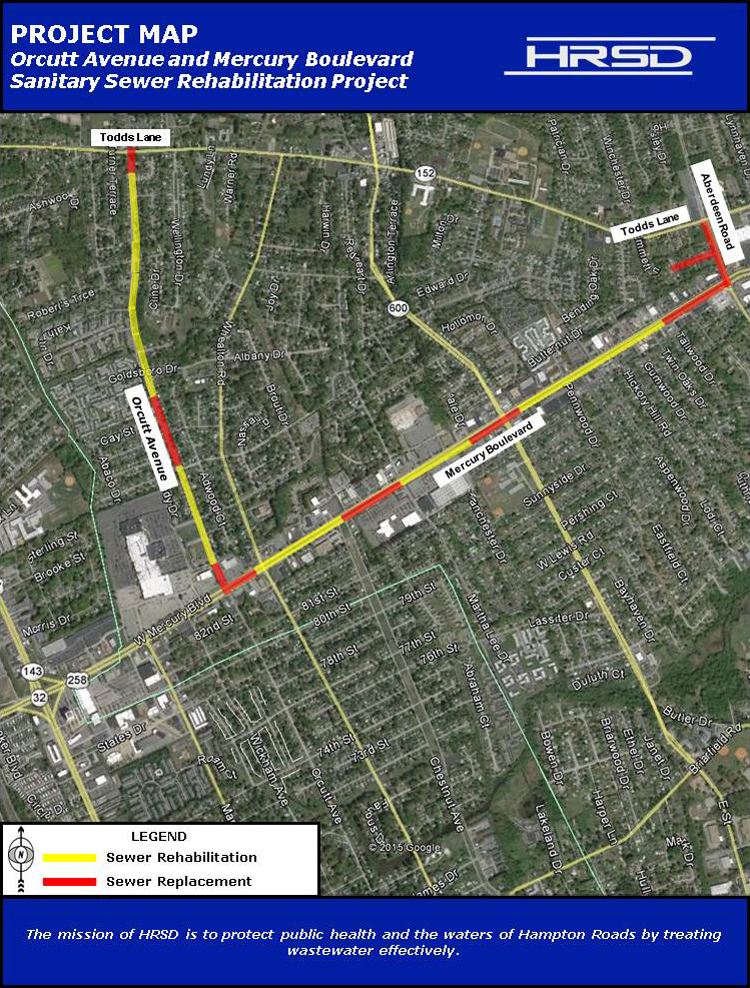 Project Schedule
Staging: January 2019
Construction: Construction activities may occur at various locations throughout the project path simultaneously and are anticipated from January 2019 - Spring 2020, beginning at: Mercury Boulevard at Aberdeen Road, Orcutt Avenue at Hazelwood Road
Restoration: Immediately following construction
You may visit www.hrsd.com/construction-status for additional information and project updates.
If you have any questions, concerns or comments about the project, please feel free to contact Eddie Abisaab, HRSD Project Manager, at 757.833.7432 or eabisaab@hrsd.com.
Thank you for your support of this effort to help achieve HRSD's vision: Future generations will inherit clean waterways and be able to keep them clean.