Providence Road Pumping Station and Pipeline Improvements
Body
HRSD, your regional wastewater treatment utility, is planning to rehabilitate the pumping station and pipelines located in your neighborhood as part of a larger, federally-mandated program to reduce the sewage overflows during rainstorms. The project will also improve the system's performance and ensure continued, reliable sewer service in the future. The answers to some Frequently Asked Questions (FAQs) may be found here.
Project Overview
The project is located at 5729 Old Providence Road. The existing building and its internal equipment will be demolished and replaced with new equipment and a new building designed to resemble a residential home. The project also includes a new pipeline across Providence Road from the pump station site to Woodstock Park that will be installed by boring and jacking the pipe under the road. These improvements are needed to handle increased flows along this corridor and improve station reliability.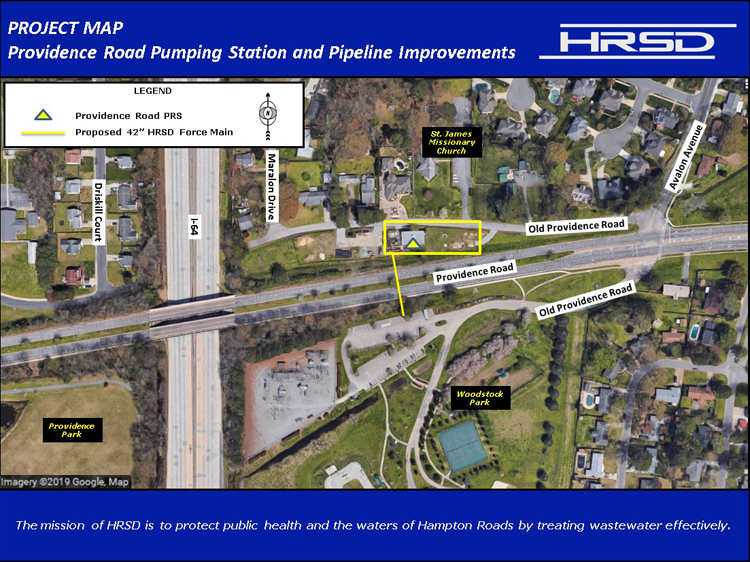 Project Schedule
Staging: March 2019
Construction: Spring 2019 - Summer 2021
Restoration: Immediately following construction
Thank you for your support of this effort to help achieve HRSD's vision: Future generations will inherit clean waterways and be able to keep them clean.
You also may visit www.hrsd.com/construction-status for additional information and project updates.
If you have any questions, concerns or comments about the project, please feel free to contact Lisa Bolen, HRSD Public Information Specialist, at 757.460.7000 or lbolen@hrsd.com.