Sewer Manhole Rehabilitation Planned for portions of 43rd Street and Bluestone Avenue near ODU
Body
HRSD, your regional wastewater utility, is undertaking a multi-phased project to rehabilitate over 100 manhole structures located throughout the Hampton Roads Service Area. These below ground structures are reaching the end of their service life and require new internal protective coatings to restore the structures and prevent further corrosion. This large program is being broken into multiple phases and grouped geographically.
Project Overview
This specific project will focus on the rehabilitation of the manholes located predominantly along Bluestone Avenue and 43rd Street, within the public right of way. This work will include preparing and spraying the existing manholes with an epoxy coating to restore the structure to prevent further corrosion and extending its life. The manhole west of Perry Library, on the campus of Old Dominion University, is located on the sidewalk between Perry Library and Parking Garage B. Do to the nature of this work you may see the contractor come in and out of work areas multiple times completing this work in necessary stages.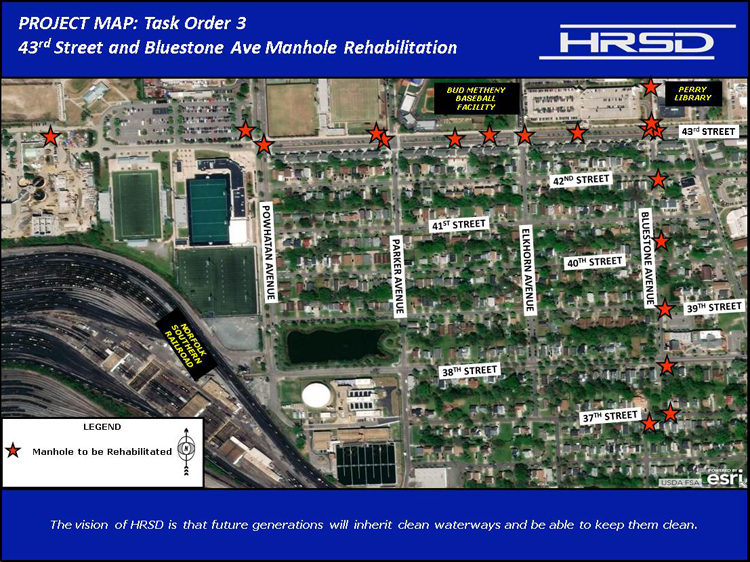 Project Schedule
Construction: November 2018 - April 2019
Restoration: Immediately following construction
If you have any questions, concerns or comments about the project, please feel free to contact Karen Russo-Scarano, HRSD Community Relations Liaison, at 757.460.7000 or krussoscarano@hrsd.com.
Thank you for your support of this effort to help achieve HRSD's vision: Future generations will inherit clean waterways and be able to keep them clean.