Sewer Rehabilitation Project Planned for 10th and Kirby Streets
Body
HRSD, your regional wastewater treatment utility, is planning to rehabilitate portions of the sanitary sewer system located in your neighborhood as part of a larger, federally-mandated program to reduce the sewage overflows during rainstorms. The project will improve the system's performance and ensure continued, reliable sewer service in the future.
Project Overview
This effort is part of a federally mandated program to reduce the risk of sanitary sewer overflows during heavy rain events such as Nor'easters or hurricanes. The two project locations are along Kirby Street from 7th Street to 2nd Street and from the intersection of Kirby and 10th Street to Main Street (see the map below). This project will replace the sanitary sewer pipeline, public sewer lateral pipes and cleanouts within the right of way (located in front yard of residences), and manholes all in need of repair. The public sewer pipes will be repaired within the VDOT right-of-way.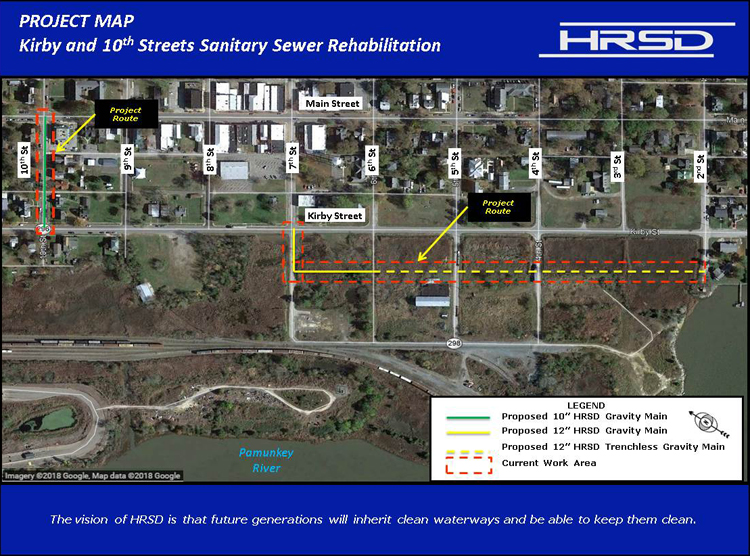 What You Need to Know
This work should not affect your sewer or water services
We ask that you not park in the street so the contractor can work in this area
Work will begin on 10th Street
Work hours are Monday-Friday, 7:00 a.m. to 5:30 p.m.
Each home along the project path will receive a new sewer cleanout, located in the front yard and the public right-of-way
Project Schedule
Construction: November 5, 2018 - February 2019
Restoration: Immediately following construction
If you have any questions, concerns or comments about the project, please feel free to contact Karen Russo-Scarano, HRSD Community Relations Liaison, at 757.460.7000 or krussoscarano@hrsd.com.
Thank you for your support of this effort to help achieve HRSD's vision: Future generations will inherit clean waterways and be able to keep them clean.