Diamond Springs Sewer Replacement
Body
HRSD, your regional wastewater utility, is undertaking a project to transfer the flow from an aging sanitary sewer pipeline in the Diamond Springs Road area of Virginia Beach to a nearby HRSD sewer pipeline. Once the transfer of flow is complete, the aging sanitary sewer pipeline will be filled with cementitious material and inline valves and related components will be constructed to provide additional isolation of the nearby existing pipeline system in case of any emergencies. The answers to some Frequently Asked Questions (FAQs) are provided here.
Project Overview
The work will be completed within four general locations within the Right-Of-Way.
Work Area 1: Intersection of Diamond Springs Road and Aragon Drive
Work Area 2: Intersection of Diamond Springs Road and Bayside Road
Work Area 3: Intersection of Diamond Springs Road and Northampton Boulevard
Work Area 4: Intersection of Wesleyan Drive and Virginia Tech Trail
The contractor will maintain a clean job site and implement comprehensive traffic control plans to minimize inconvenience.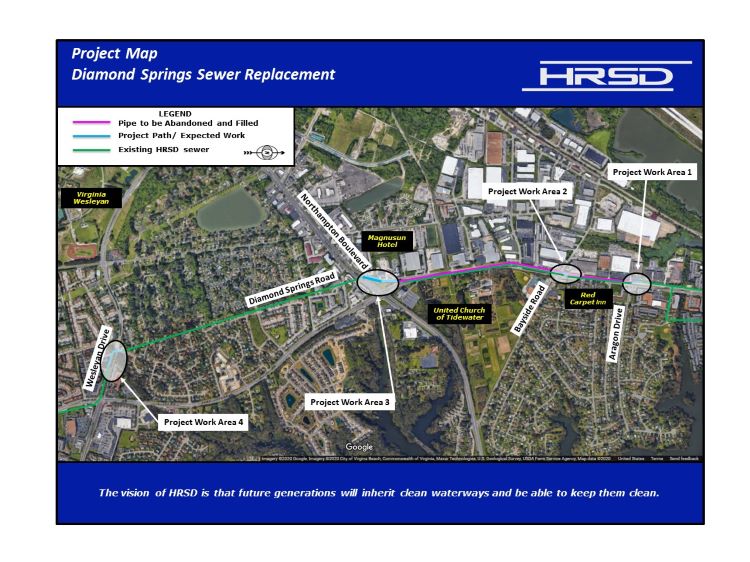 Project Schedule
Construction:
Work Area 1: Completed
Work Area 2: Fall 2020 (in progress) 
Work Area 3: Fall 2020 - Spring 2021 (starting soon)
Work Area 4: Spring 2021 - Summer 2021
Restoration: Immediately following construction
Thank you for your support of this effort to help achieve HRSD's vision: Future generations will inherit clean waterways and be able to keep them clean.
You also may visit www.hrsd.com/diamond-springs-sewer-replacement for additional information and project updates.
If you have any questions, concerns, or comments about the project, please feel free to contact Lisa Bolen, HRSD Public Information Specialist, at 757.460.7000 or lbolen@hrsd.com.