Tabb Pressure Reducing Station & Offline Storage Facility
Body
HRSD, your regional wastewater treatment utility, invites you to attend an Open House to learn about the Tabb Pressure Reducing Station & Offline Storage Facility. HRSD is undertaking a project to construct the Tabb Pressure Reducing Pump Station & Offline Storage Facility, which will include constructing two 2.5-million-gallon offline storage tanks and a pressure reducing pump station. The new facility will be located on HRSD property located at 900 Yorktown Road in Yorktown and is designed to relieve pressures to the sewer system during wet weather events and provide flow balancing for HRSD's James River and York River Treatment Plants. The facility will improve system operations, increase flow capacity, and provide reliable sanitary sewer infrastructure for your community and the region. Additionally, these system improvements are mandated by the EPA to reduce sanitary sewer overflows.
Representatives of HRSD will be available during the Open House to explain the project and respond to questions. The answers to some Frequently Asked Questions may be found here.
Project Open House
Date: Thursday, September 9, 2021
Time: Come at your convenience between 5:00 p.m. - 7:00 p.m.
Place: Tabb High School Lobby, 4431 Bethel Road, Yorktown, VA 23693
Come to the Open House at your convenience and:
     • Discuss the project the project team
     • See the project site possibilities and what the facility may look like
     • Ask questions
If you cannot attend the Open House, a pre-recorded video is available that includes slides, pictures, and narration with explanations from the project manager. You can view the video and submit questions until Friday, September 17th at the following link: www.hrsd.com/Tabb-PRS-VirtualPresentation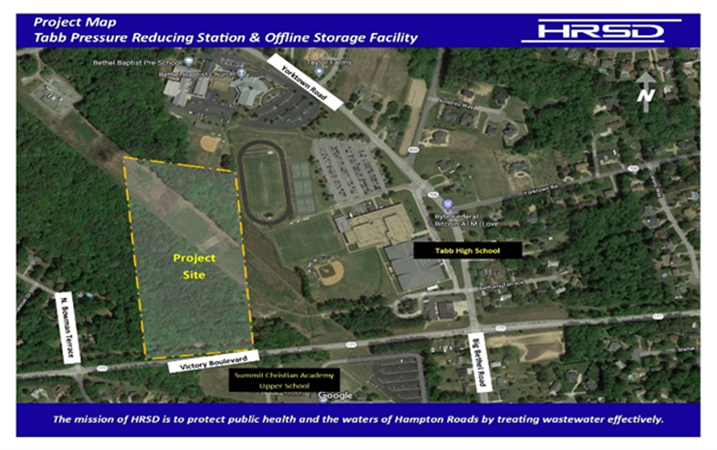 Anticipated Project Schedule
Design Completion: Summer 2022
Construction: Fall 2022 - Spring 2024 
If you unable to attend this open house and would like to obtain more information, please contact Lisa Bolen, HRSD Public Information Specialist, at 757.460.7000 or lbolen@hrsd.com.