Surry Hydraulic Improvements and Force Main Installation
Body
HRSD invites you to attend an Open House to learn about the project to install sanitary sewer pipe and valves along Rolfe Highway (Route 31) and Connie Drive. A new pump station and wet weather storage facility will also be constructed at the current Town of Surry Wastewater Treatment Plant. The new pump station will pump flows to the County Plant for treatment and disposal. The sewer pipe is generally located outside of existing pavement in right-of-ways and easements, and the pump station construction will be limited to the existing Town Plant property. Traffic control plans will be implemented to minimize inconvenience. Representatives of HRSD will be available during the Open House to explain the project and respond to questions. The answers to some Frequently Asked Questions may be found here.
Project Open House
Date: Monday, July 15, 2019
Time: Come at your convenience between 5:00 p.m. - 7:00 p.m.
Place: Blackwater Regional Library - Surry Branch, 270 Colonial Trail East, Surry, VA 23883
Come to the Open House at your convenience and:
     • Discuss the project with representatives of HRSD and the design and construction team
     • See the project map
     • Ask questions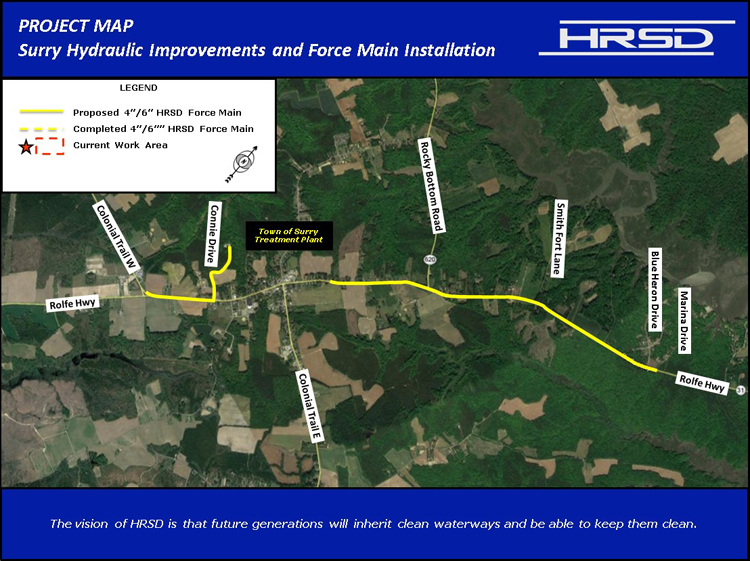 Anticipated Project Schedule
Project Open House: July 15, 2019
Construction: Summer 2019 - Fall 2020
Completion: Winter 2020
If you unable to attend this open house and would like to obtain more information, please contact Lisa Bolen, HRSD Public Information Specialist, at 757.460.7000 or lbolen@hrsd.com.