Shingle Creek Sewer Improvements
Body
HRSD, your regional wastewater treatment utility, in coordination with the City of Suffolk, is planning a project in your neighborhood to improve the existing HRSD and City sanitary sewer pipelines that are nearing the end of their useful life. This replacement project will also improve the system's performance and ensure continued, reliable sewer service in the future. The answers to some Frequently Asked Questions (FAQs) are provided here.
Project Overview
The project is located near the headwaters of Shingle Creek. Work on the sewer pipeline will be along Lewis Avenue, Columbus Avenue, and following the utility easement near Shingle Creek between County Street, Factory Street, White Marsh Road, 6th Street, and the end of Freeney Avenue. This project includes sewer pipelines and manholes to be repaired from specific locations in public right-of-way for one section of sanitary sewer and only manhole repair for another section of sewer. The contractor will maintain a clean job site and minimize traffic disruption.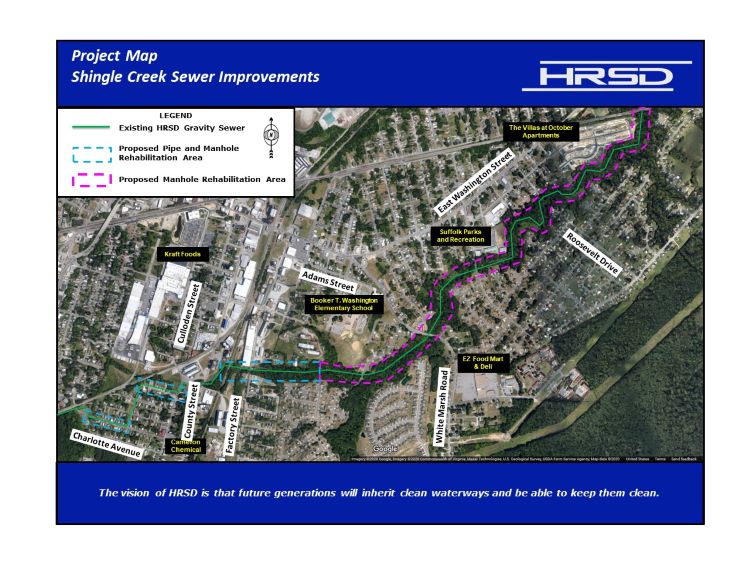 Project Schedule
Staging: July 2020
Construction: Pipe and Manhole Rehabilitation: (work within the public right of ways on Charlotte Ave. and County Street) August 2020 – December 2020
Manhole Rehabilitation: (work within the HRSD easement along Shingle Creek) August 2020 – December 2020
Restoration: Immediately following construction
Thank you for your support of this effort to help achieve HRSD's vision: Future generations will inherit clean waterways and be able to keep them clean.
You also may visit https://www.hrsd.com/shingle-creek-sewer-improvements for additional information and project updates.
If you have any questions, concerns or comments about the project, please feel free to contact Lisa Bolen, HRSD Public Information Specialist, at 757.460.7000 or lbolen@hrsd.com.
Should you have any questions or comments, you may contact: