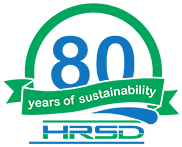 HRSD traces its early beginnings to 1925 when the Virginia Department of Health condemned a large oyster producing area in Hampton Roads. The closure resulted in the Virginia General Assembly in 1927 creating a "Commission to Investigate and Survey the Seafood Industry of Virginia." Other studies recommended a public body to construct and operate a sewage system in the area.
In 1934, the Virginia General Assembly created the Hampton Roads Sanitation Disposal Commission with instructions to plan the elimination of pollution in Hampton Roads. Recommendations were made to the General Assembly, which resulted in the Sanitary Districts Law of 1938, along with "an Act to provide for and create the Hampton Roads Sanitation District." This Act required the qualified voters within HRSD to decide in a general election on November 8, 1938, if they favored creation of such a District. Nearly 20,000 votes were cast, but the referendum fell short of a majority, leading to a revision of the Act and another referendum on November 5, 1940. This second referendum resulted in a majority vote for the creation of the Hampton Roads Sanitation District.
HRSD began operations on July 1, 1946, using facilities acquired from the United States Government. The first treatment plant, the Army Base Plant in Norfolk, began operation on October 14, 1947. Since then, the facilities of HRSD have grown to provide sanitary sewer service to all major population centers in southeastern Virginia. The population served has grown from about 288,000 in 1940 to just over 1.9 million today.
We invite you to click the links below to learn more about HRSD's rich legacy of protecting public health and the waters of Hampton Roads through effective wastewater treatment as we continue our work to achieve our vision: Future generations will inherit clean waterways and be able to keep them clean.