Sewer Manhole Rehabilitation Project
Body
​
HRSD, your regional wastewater treatment utility, is undertaking a project to rehabilitate and perform maintenance for an existing sanitary sewer manhole located at the intersection of Magnolia Avenue and Monroe Place in Norfolk, Virginia. In order to achieve the rehabilitation needed for the manhole, the contractor will install a bypass pipe on the existing sewer line running along Monroe Place. This will allow the wastewater to flow through a temporary bypass pipe so your sewer service should not be interrupted. This bypass pipe will be installed north of the intersection, and bypass piping will be placed under the road to a manhole on Monroe Place near Rockbridge Avenue. Road closures will be needed in order to place the bypass piping and rehabilitate the manhole. Road closures to through traffic and detour signs will be in place during the project; local traffic will be able to access their homes. Frequently Asked Questions (FAQ) about the project are provided on the back of this notice.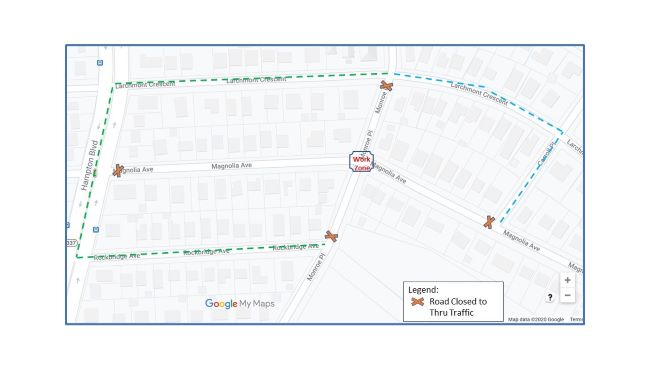 Project Schedule
Work should begin the week of September 28, 2020.
Work should be completed by the end of October 2020
Restoration of the road should occur in November 2020
Thank you for your support of this effort to help achieve HRSD's vision: Future generations will inherit clean waterways and be able to keep them clean.
​
Should you have any questions or comments, you may contact:
HRSD Public Information Specialist:
Lisa Bolen
(757) 460-7000
lbolen@hrsd.com