Water Quality Monitoring Following Sanitary Sewer Overflows
Water Quality Monitoring Following Sanitary Sewer Overflows
Following a sanitary sewer overflow (SSO), HRSD may collect water quality data to assess the persistence of wastewater in surface waters. Fecal indicator bacteria (FIB) such as Enterococcus spp. and fecal coliform are often used for this purpose. These FIB are non-pathogenic indicators of the presence of waste material and are found in the guts of all warm-blooded animals. Typical sources of FIB in surface waters include domestic wastewater and waste from pets, livestock and wildlife.
Concentrations of FIB are typically at their highest immediately following an SSO or overland runoff resulting from a large rain event. In Hampton Roads, HRSD's water quality monitoring following an SSO has indicated that water quality typically returns to pre-spill conditions within several days.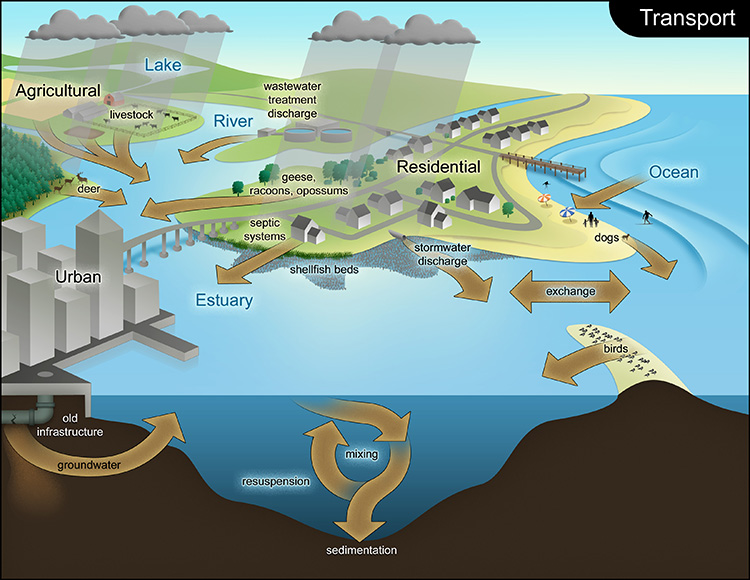 Results of HRSD monitoring following January 4, 2021 Sanitary Sewer Overflow in Newport News
In response to the release of approximately 29 million gallons of untreated wastewater as a result of a force main failure, HRSD initiated water quality monitoring near the site of the release.
Nearby historical monitoring is available from the Virginia Department of Health (VDH). The Shellfish Safety program monitors fecal coliform as part of its assessment of shellfish growing areas. The program's monitoring stations, 56-V40 and 56-032, document a geometric mean calculated from the previous 30 sampling events of 3.5 CFU/100 mL (both sites). HRSD monitoring at the nearby sites 3, 4, 5 and 6 indicated water quality returned to 10 CFU/100 mL or less by January 8.
Historical data is also available from VDH's beach monitoring program. The program monitors Enterococcus spp. to evaluate the safety of beach waters for recreational activity. Specifically, review of VDH data from Anderson Beach indicates that by January 8, water quality at the nearby site 2 was similar to that of the 2020 beach season.
Water quality data alone is not sufficient in determining impacts of SSOs on shellfish growing areas. National Shellfish Sanitation Program outlines standards to identify emergency closures in growing areas following an exposure to untreated wastewater. These standards include criteria which must be met in order to reopen the grounds. Refer to VDH FAQs for additional information.
For more information on the numerical standards Virginia uses to assess water quality conditions, please refer to the following:
Virginia Water Quality Standards, Shellfish
Virginia Water Quality Standards, Recreational Waters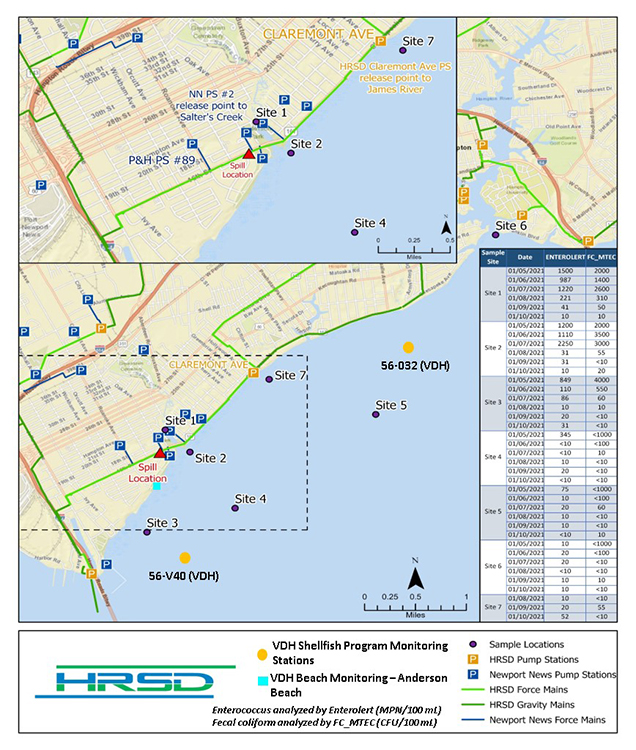 Previous
Next