Procurement Division
Welcome to the HRSD Procurement Division. We are responsible for purchasing, renting, leasing, or otherwise acquiring commodities, services, and certain construction and professional services for HRSD. We also manage disposal of surplus property. We leverage our knowledge, supply management expertise and technology to provide solutions to our clients and financial return-on-investment for HRSD, while achieving influence in the marketplace with our key supply partners.
We are committed to providing the necessary resources that establish a foundation in supporting HRSD's mission to protect public health and the waters of Hampton Roads by treating wastewaters effectively.
We believe a strong commitment to providing excellent service to our clients is vital for our success and that the following values are essential to our success:
Strategic Business Partnering
We believe that our strength lies in our professional relationships with the business community and are based upon understanding our clients' business needs and then planning, implementing and managing the best contracts. We embrace the highest ethical standards of our profession and model ethical conduct to our clients, our colleagues and our peers.
Innovation
We value creativity and innovation in developing and providing successful solutions. We are committed to seeking more efficient and effective ways of conducting our business.
Open Access to Procurement Opportunities and Information
We value our business partners and believe in the practice of free and open competition. We are committed to ensuring a fair, non-discriminatory and complete process based on the highest ethical standards in our profession.
Accurate and Timely Information
We believe that timely and accurate information is crucial to business decisions within HRSD and the business community.
Supplier Diversity
The goals of HRSD's diversity procurement policy are to actively solicit and encourage small, women-owned, minority-owned, and service disabled veteran-owned businesses to participate in procurement opportunities through equally fair and open competition for all contracts.
Whenever HRSD engages in a solicitation, it includes available businesses selected from HRSD's centralized contractor/supplier database, the Virginia Department of Small Business and Supplier Diversity (SBSD) www.sbsd.virginia.gov and/or the Carolinas-Virginia Minority Supplier Development Council (CVMSDC) www.cvmsdc.org/. Small, women-owned, minority-owned and service disabled veteran owned businesses are encouraged to become certified by the SBSD and the CVMSDC.
Each of HRSD's contractors and suppliers is encouraged to provide for the participation of small, women-owned, minority-owned and service disabled veteran-owned businesses through partnerships, joint ventures, subcontracts and other contractual opportunities. HRSD conducts and/or participates in several supplier outreach events each year. Contact HRSD's Procurement Office at 757.460.7318 or erphelp@hrsd.com, for additional information.
Invoice Payments
In order to ensure prompt payment, suppliers and contractors should prepare invoices in the same format as the associated purchase order or contract. Invoices should be legible, complete and accurate. Submission of invoices by e-mail to ap@hrsd.com is preferred. HRSD's preferred method of invoice payment is by credit card (ePayables). As an alternative payment method, ACH payments are also utilized. In the event one of these two payment methods is not possible, HRSD will make invoice payments by check.
Surplus Property Sales
HRSD offers a wide variety of surplus supplies, equipment and vehicles for sale throughout the year. GovDeals, an online auction site, is utilized for the advertisement and competitive bidding of HRSD surplus property. For more information about GovDeals and HRSD Online Auctions, contact Shana Pankey or Surplus-Procurement@hrsd.com.
Procurement Policies
Advertisement of Procurement Opportunities
The Procurement Division advertises bid opportunities on HRSD's website. In addition, formal competitive sealed proposals are advertised in the local newspaper, The Virginian-Pilot.
Procurements $10,000 or Less
HRSD departments have the delegated authority to make purchases $10,000 or less through the use of HRSD's Procurement Card. HRSD clients may directly contact suppliers for pricing and delivery of the needed goods or services within the guidelines of HRSD's Procurement Card Policy.
Procurements Over $10,000 and Up to $200,000
The Procurement Division staff will seek competition to the maximum feasible degree through the use of informal solicitations including Request for Quotes (RFQ's), Competitive Bids and Competitive Proposals.
Procurements Over $200,000
The Procurement Division staff will seek competition to the maximum feasible degree through the use of formal solicitations including Competitive Sealed Bids (IFB's), Competitive Sealed Proposals (RFP's) and Competitive Sealed Technical Proposals (RFTP's).
Solicitation Amendments and Purchase Order Change Notices
Any changes to an HRSD Procurement Division solicitation or an awarded Purchase Order shall be in the form of a written notice issued by the Procurement Division's authorized representative. Electronic notifications are sent through HRSD's e-Procurement system.
To review all of our policies and procedures, please visit our Manuals & Guidelines page.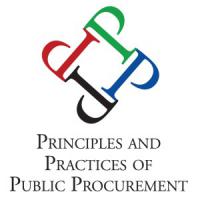 Widget Body
HRSD is a proud supporting organization of the Principles and Practices of Public Procurement, a collaborative review of proposed values, principles, and standards of practices for public sector procurement.