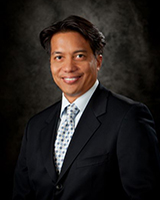 Jay A. Bernas, PE, MBA
General Manager
generalmanager@hrsd.com
Jay Bernas was promoted to General Manager after serving as Director of Finance and Treasurer since October 2015. As Director of Finance, his team secured one of the largest WIFIA programmatic loans at $1.05 billion for the SWIFT program. In addition, HRSD's financial position improved significantly during his tenure, which led to three ratings agency upgrades. Before his promotion to this position, Mr. Bernas served as Chief of Planning and Analysis for 10 years and was responsible for planning HRSD's $1.4 billion Capital Improvement Program, performing business case analyses saving $239 million NPV, system capacity analyses to support regional growth and managing four technical sections: Geographic Information Systems, Data Analysis, and Hydraulic Modeling. Prior to joining HRSD, he was a project manager with the City of Virginia Beach. Mr. Bernas graduated from Old Dominion University in 1995 with a bachelor's degree in Civil Engineering and earned his MBA from the College of William and Mary in 2013. He also has completed the Kenan-Flagler Water and Wastewater Leadership Program and was part of the 2008 class for LEAD Hampton Roads. He received the George Robert House, Jr. Award for the young public administrator of the year from the American Society for the Public Administration in 2006 and was recognized by Inside Business as a "Top Forty under 40" in 2011. Appointed by the Virginia Beach City Council to serve on the Planning Commission from 2006-2013, Mr. Bernas was its Chair for the last two years of his tenure. He served as chair of the St. Gregory the Great's School Board from 2015-2019. In 2018, he was elected to the $2.0 billion Virginia Investment Pool Board of Trustees. In 2020, he was elected to the National Association of Clean Water Agencies Board of Directors.
Jennifer Cascio
Commission Secretary
jcascio@hrsd.com
757.460.7003
Jennifer Cascio joined HRSD in 1992, and has served as Commission Secretary since July 2005. She previously held positions in the Engineering, Finance and Administration, and Water Quality departments. Ms. Cascio received a B.A. degree in human resources from Saint Leo University.