Eastern Shore Sewer Infrastructure Improvements
Body
HRSD is undertaking a project to construct a system of sewer pipes approximately 102,000 feet in length along with three pump stations to convey wastewater flows from the Towns of Nassawadox and Exmore, and existing sewer customers in Accomack County to the Onancock Wastewater Treatment Plant. This system will provide for improved wastewater treatment for the Towns of Nassawadox and Exmore by taking advantage of unused capacity at the Onancock Wastewater Treatment Plant and improve sanitary sewer service reliability to existing customers of Accomack County. The answers to some Frequently Asked Questions (FAQs) are provided here.
Project Overview
Most of the project is located outside of roadways along the abandoned railroad right-of-way that generally follows Route 13 from the Town of Nassawadox to the Town of Onley.
Town of Nassawadox: work will occur at the former Riverside Shore Memorial Hospital property and the roadway corridor of Hospital Avenue and Rogers Drive.
Town of Exmore: work will occur on Carolyn Avenue.
Town of Keller: work will occur along Wachapreague Road.
Town of Onley: work will occur along Washington Street.
Town of Onancock: work will occur along Hartman Avenue, Market Street, and Boundary Avenue.
The work also includes three crossings of Route 13 which will be installed by trenchless methods, and therefore, will not disrupt traffic flow. The contractor will maintain a clean job site and comprehensive traffic control plans will be implemented to minimize inconvenience.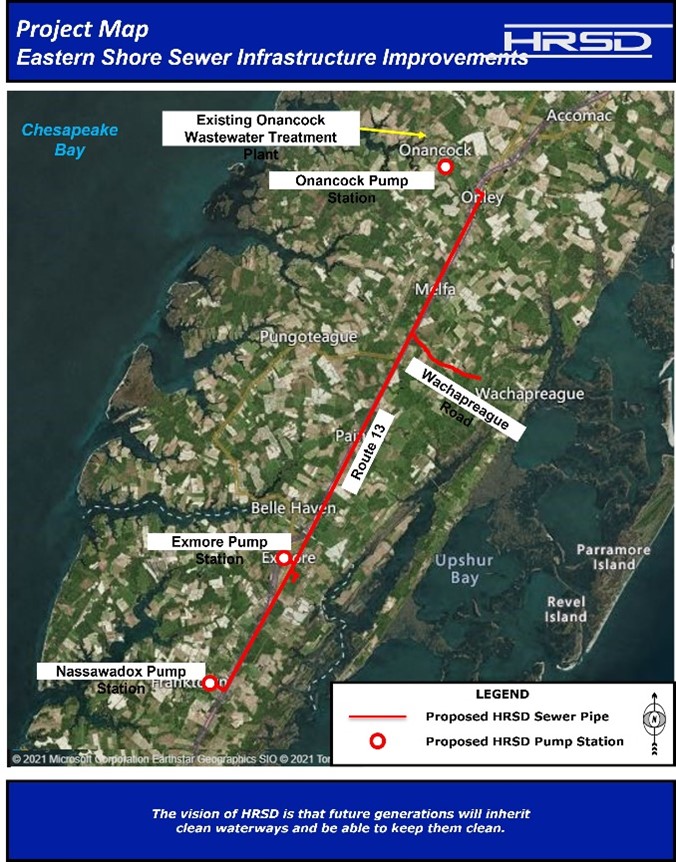 ​
Project Schedule
Staging: May 2022
Construction: May 2022 - Late 2023
Restoration: Immediately following construction when seasonably appropriate
Thank you for your support of this effort to help achieve HRSD's vision: Future generations will inherit clean waterways and be able to keep them clean.
You also may visit https://www.hrsd.com/eastern-shore-sewer-infrastructure-improvements for any project updates. If you have any questions, concerns, or comments about the project, please feel free to contact Lisa Bolen, HRSD Public Information Specialist, at 757.460.7000 or LBolen@hrsd.com.