Temporary Road Closure on Southern Boulevard at N. Budding Avenue for Sanitary Sewer Work
Body
Virginia Beach – Motorists are advised that HRSD is performing sanitary sewer maintenance work at the intersection of Southern Boulevard and N. Budding Avenue. During the maintenance work, motorists can follow a signed detour to access Ash Avenue. The detour is Southern Boulevard to N. Budding Avenue to Dutch Street to Ash Avenue as indicated on the map below. The detour is scheduled to being August 19th and should remain in place for approximately 2 weeks.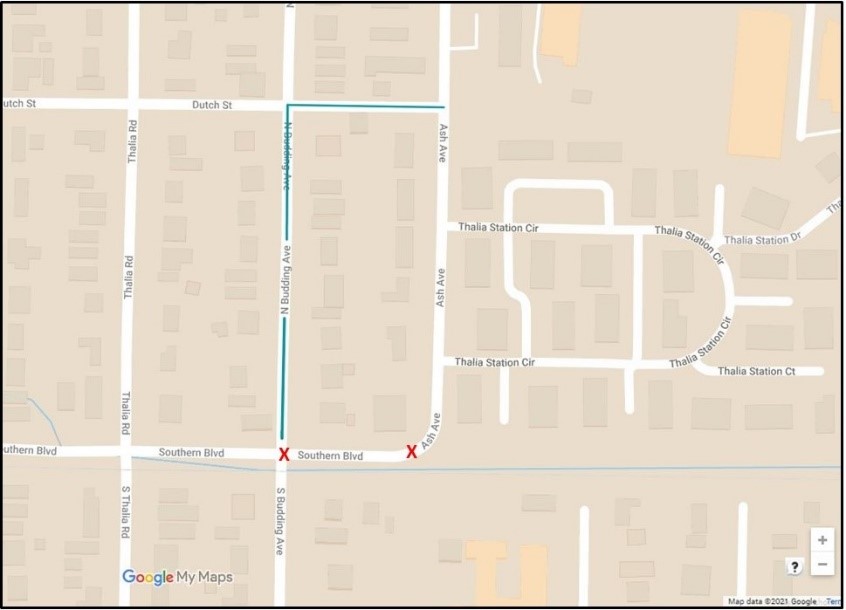 This work is weather dependent and subject to change or require additional time. Please visit the Newsroom on HRSD.com for updates and schedule changes.
HRSD's mission is to protect public health and the waters of Hampton Roads by treating wastewater effectively. A political subdivision of the Commonwealth of Virginia, HRSD was created by public referendum in 1940 and currently serves 18 cities and counties in southeast Virginia, an area with a population of 1.7 million.
###
Should you have any questions or comments, you may contact:
Media Contact:
Leila Rice, APR – 757.460.7056
Director of Communications
lrice@hrsd.com