Old College Drive Sewer Valving Replacement
Body
​
HRSD, your regional wastewater treatment utility, is planning sanitary sewer system improvements to your community. The project includes the replacement of a section of a pipeline. The replacement of this section of pipeline will also consist of the removal of four valves due to their age and inoperability. The project will be located on HRSD property, public right-of-way, and VDOT right-of-way. The Contractor will maintain a clean worksite and minimize traffic disruption. The answers to some Frequently Asked Questions (FAQs) are provided here.
Project Overview
The project includes the replacement of a section of a buried pipeline. This section is located on eastern side of the 5900 block of Old College Drive in Suffolk, Virginia. The construction work will begin just south of the College Square at Harbour View Townhome Apartments. A temporary bypass pipe will also be installed on HRSD property and in the public right-of-way before the section is replaced, to ensure there will be continuous sewer service during the work.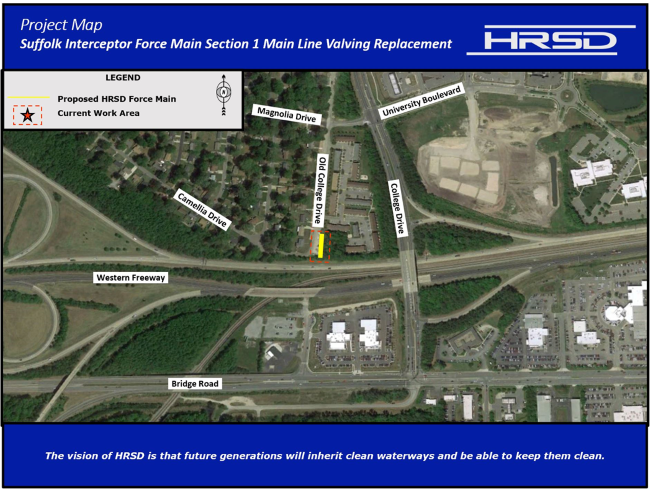 Project Schedule
Construction:
February 2021-May 2021
Restoration: Immediately following construction
Thank you for your support of this effort to help achieve HRSD's vision: Future generations will inherit clean waterways and be able to keep them clean.
If you have any questions, concerns, or comments about the project, please feel free to contact Lisa Bolen, HRSD Public Information Specialist, at 757.460.7000 or Projects@hrsd.com