South Norfolk Pump Stations & Sanitary Sewer Replacement Project
Body
PROJECT UPDATES DUE TO WEATHER DELAY – AUGUST 2022
Continued Extended Work Hours:
To complete open-pit sewer work prior to the start of Rena B. Wright Elementary School's 2022/2023 school year, Bridgeman Civil, the contractor for HRSD, will be extending work hours on Park Avenue to seven days per week (Sunday – Saturday), between the hours of 7 AM – Sunset (approximately 9 PM). This work schedule will be in place between now and September 6, 2022.
Revised Notice of 24-Hour Work:
Per the Notice #4, distributed on August 9th, two periods of non-stop, 24-hour drilling were set to occur between August 16th and August 26th. However, severe storms caused significant delays and the 24-hour work, including nighttime drilling, will now occur on the following days in the following locations.
August 23 – August 26: Park Avenue between Rena B. Wright Elementary School and Bainbridge Boulevard
August 30 – September 2: Park Avenue between Bainbridge Boulevard and Hull Street
This 24-hour work is necessary because once the drilling effort begins, the contractor is unable to stop until the bore is complete. Additionally, the extended hours will allow for the contractor to complete much of the open-pit sewer work in front of Rena B. Wright Elementary School prior to the start of the school year on September 6. Once the contractor completes this 24-hour work on September 2, they will be able to close up the pits to eliminate safety hazards during non-working hours.
During this operation, you may hear noises such as drilling, engines, backup alarms, diesel generators and motors. Your water and sewer service will not be disrupted.
Road reconstruction work will take place during the new daytime hours (7 AM – Sunset) in the days following these 24-hour drilling periods.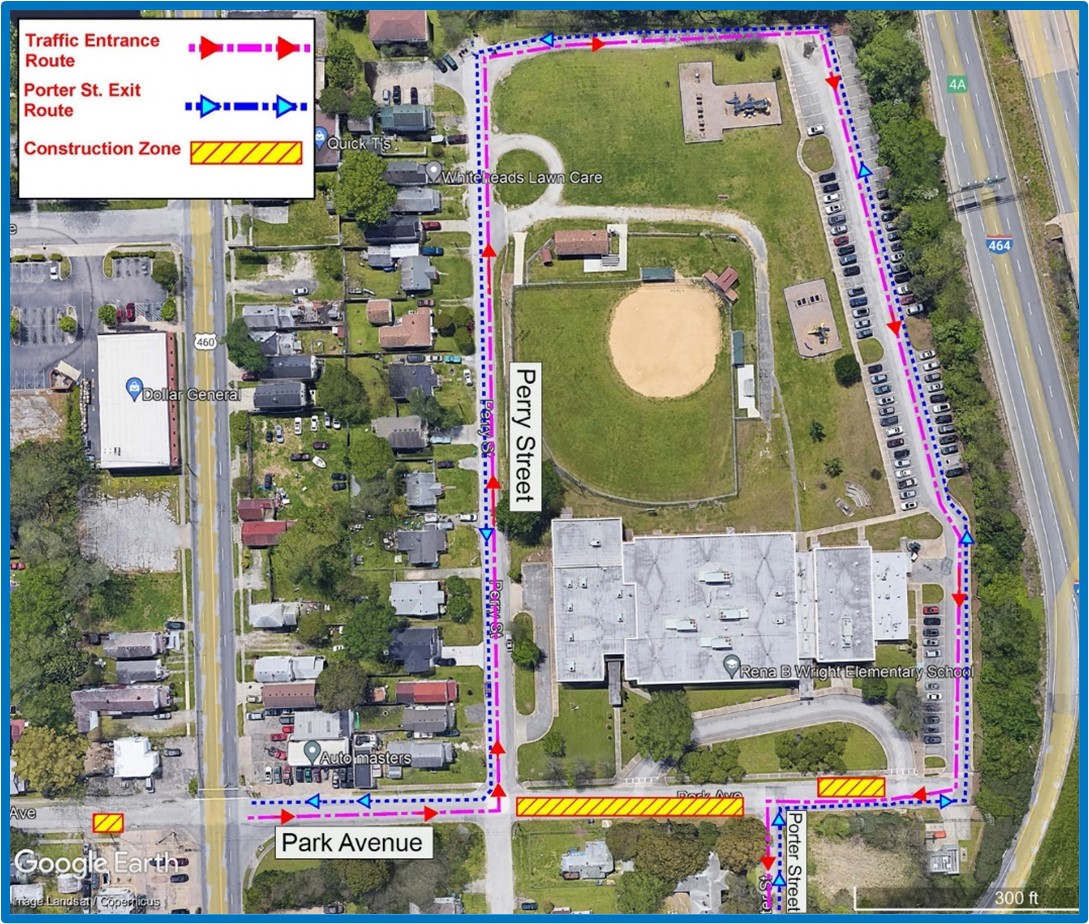 Revised Detour Schedule:
Due to delays from severe weather and Chesapeake water line construction, the detour routes on Park Avenue depicted in the image above will remain in effect until Mid-October.
Road Closure on Park Avenue Between Bainbridge and Hull:
As part of the HRSD sanitary sewer pipeline replacement project, Bridgeman Civil needs to complete the digging of pits on Park Avenue between Bainbridge Boulevard and Hull Street.
This work will occur between August 29th and September 19th. During that time, the portion of Park Avenue between Bainbridge Boulevard and Hull Street will be blocked to traffic. Detours will be available to Hull Street from Bainbridge Boulevard via north to Jefferson Street or south to Holly Avenue.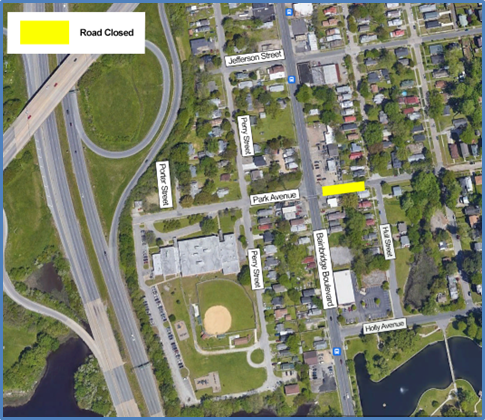 More information about this project can be found at the project webpage: www.hrsd.com/south-norfolk-pump-stations-and-sanitary-sewer-replacement-project
Should you have any questions or comments, you may contact:
HRSD Public Information Specialist:
Lisa Bolen
(757) 460-7000
lbolen@hrsd.com
Onsite Inspector (Emergent Concerns):
Michael Hughs
(757) 692-5128