South Norfolk Pump Stations & Sanitary Sewer Replacement Project
Body
-- PARK AVENUE PUMP STATION CONSTRUCTION UPDATES --
Park Avenue Pump Station (PS) Construction
As early as Tuesday, September 6, 2022, the contractor for HRSD will begin work on Phase 2 of the South Norfolk Pump Stations and Sanitary Sewer Replacement Project.
Phase 2 of this project is the construction of a new pump station located at the corner of Park Avenue and Porter Street located directly across from Rena B. Wright Elementary School. Construction work will begin after Labor Day 2022 and will continue through Summer 2024. All work will occur directly on the pump station property itself, Monday – Friday between the hours of 7 AM – 7 PM.
During construction, you may notice staging of construction materials on the construction site and typical construction noises such as engines, backup alarms, material deliveries, diesel generators, and air compressors.
Construction vehicles will not travel down Park Avenue during Rena B. Wright's school bus loading and unloading hours.
Until the restoration of Park Avenue between Rena B. Wright and Bainbridge Boulevard is completed, Park Avenue will be reduced to one lane of traffic.
After the sanitary sewer pipeline work on Park Avenue is complete, temporary road closures are not expected. If they do need to occur, notice will be given to residents at least 48 hours in advance of a planned closure.
This work will not affect your water or sewer services
This work is expected to be completed by Summer 2024.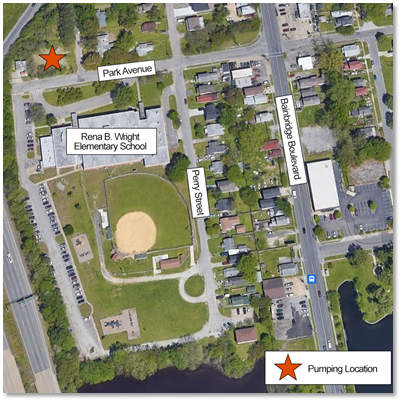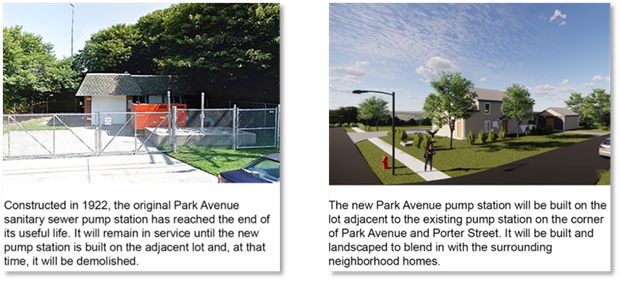 Crane to be Stationed at Park Avenue
Starting as early as September 16, a large crane with a height of 176ft will be located on Park Avenue at the rear of the lot where the new pump station will be constructed.
The precise location is depicted on the map below.
As part of the crane's safety design, it may rotate with the wind, even when an operator is not present. This is a normal occurrence.
The crane is necessary for the contractor to complete sheet piling at the pump station location to prepare for construction.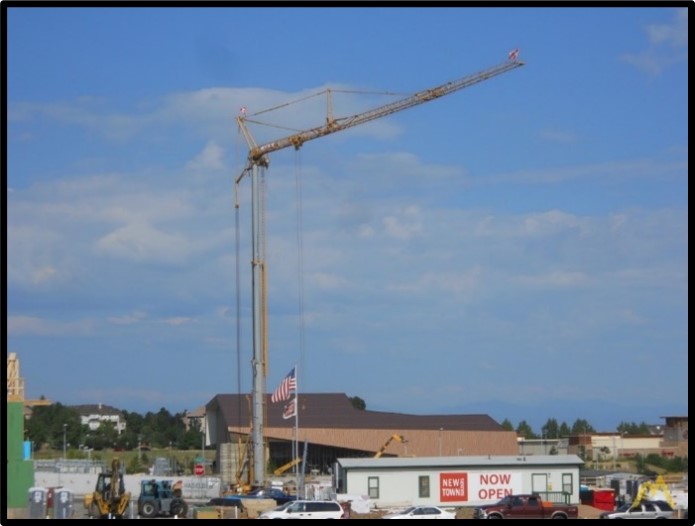 Map of Crane Location: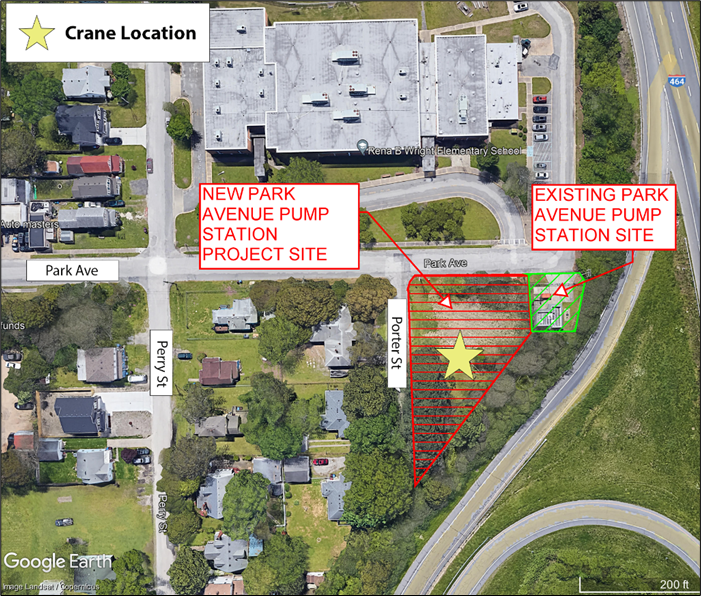 While our project team works diligently to minimize impacts, you may notice increased noise and traffic, along with the people and heavy equipment (with back-up safety alarms) associated with construction. Please take care when traveling around the construction area and for your safety, do not enter the site. Due to the nature of construction, work is weather and situation dependent, and dates are subject to change.
More information about this project can be found at the project webpage: www.hrsd.com/south-norfolk-pump-stations-and-sanitary-sewer-replacement-project
Should you have any questions or comments, you may contact:
HRSD Public Information Specialist:
Lisa Bolen
(757) 460-7000
lbolen@hrsd.com
Onsite Inspector (Emergent Concerns):
Michael Hughs
(757) 692-5128