South Norfolk Pump Stations & Sanitary Sewer Replacement Project
Body
-- PROJECT UPDATES - SEPTEMBER 2022 --
Revised Notice of 24-Hour Work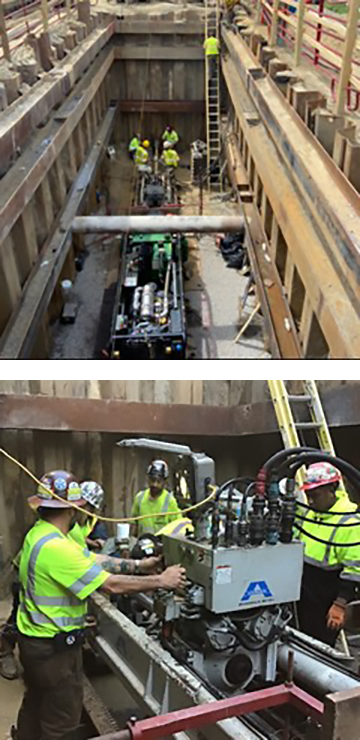 On August 18 (Construction Notice #6), we stated that two-periods of non-stop, 24-hour drilling would occur between August 23 and September 2. The first period of that drilling was completed on August 27.
On August 31, however, the drill broke, and the planned 24-hour work was postponed. The drill is being repaired and a new period of 24-hour work is expected to occur between September 10 and September 13.
Again, this 24-hour work is necessary because once the drilling effort begins, the contractor is unable to stop until the bore is complete.
Once the contractor completes this 24-hour work, they will be able to close the pits to eliminate safety hazards during non-working hours.
During this operation, you may hear noises such as drilling, engines, backup alarms, diesel generator and motors. Your water and sewer service will not be disrupted.
Sewer manhole installation and road reconstruction at the excavation pits will continue to take place during the new daytime hours (7AM – Sunset) in the days following these 24-hour drilling periods. Roadway paving work to include base layer paving is expected to be completed by mid-October.
Park Avenue Pump Station (PS) Construction
Site preparation for the new Park Avenue Pump Station began on September 6. Currently, crews are clearing brush and trees from the construction site. All work will occur directly on the pump station property itself, Monday – Friday between the hours of 7 AM – 7 PM.
Please be aware that the large tower crane (see Construction Notice #7) is set to mobilize on time on September 16. As part of the crane's safety design, it may rotate with the wind, even when an operator is not present. This crane is necessary for the contractor to prepare for pump station construction.
Porter Street Access During School Hours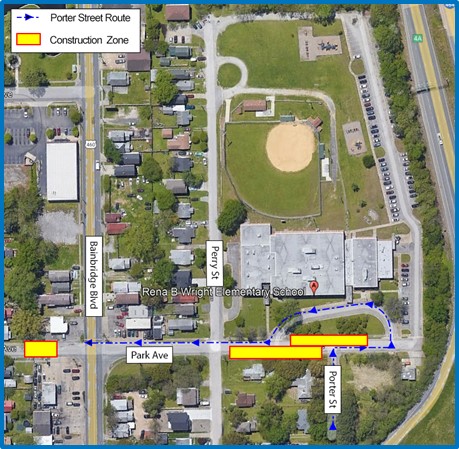 As a reminder, Park Avenue between Bainbridge Boulevard and Rena B. Wright Elementary School is reduced to one lane of traffic. Traffic is detoured up Perry Street and around Rena B. Wright.
However, during the following pick-up and drop-off times at the school, residents on Porter Street are advised to use the half circle in front of the school to exit to Bainbridge Boulevard:
7:15 AM - 7:30 AM
10:45 AM - 11:00 AM
1:45 PM - 2:30 PM
During all other times, please follow the standard, marked detour route.
If the entrance to Porter Street is blocked by the contractor, please contact Michael Hughs, On-Site Inspector at 757.692.5128.
While our project team works diligently to minimize impacts, you may notice increased noise and traffic, along with the people and heavy equipment (with back-up safety alarms) associated with construction. Please take care when traveling around the construction area and for your safety, do not enter the site. Due to the nature of construction, work is weather and situation dependent, and dates are subject to change.
More information about this project can be found at the project webpage:
www.hrsd.com/south-norfolk-pump-stations-and-sanitary-sewer-replacement-project
Should you have any questions or comments, you may contact:
HRSD Public Information Specialist:
Lisa Bolen
757.460.7000
lbolen@hrsd.com
Onsite Inspector (Emergent Concerns):
Michael Hughs
757.692.5128