Written by Lenzie Ward, P3 Specialist Published on April 12, 2023
Spring is here, the sun is shining, the house is clean, and we are going to learn some tips for sustainable spring cleaning! These tips will help you to make more sustainable cleaning choices to protect you and the environment.
Practicing green cleaning helps to protect us, our families, and the environment from harmful chemicals. It also works to reduce waste and our carbon footprint. In green cleaning we choose practices that minimize our exposure to toxins by using safer alternatives and reduce waste and carbon emissions by opting for more sustainable products.
Keeping our work and home areas tidy has a plethora of benefits, as it promotes happiness and motivation and maintains health and wellness. Unfortunately, however, some of the products that we use to clear away dust bunnies, dander, and allergens, can actually contain ingredients that are allergens themselves.
Common cleaning products can contain ingredients that irritate the eyes, lungs, and skin, such as ammonia and bleach. Products can also contain fragrance in the form of phthalates, are shown to have adverse impacts on reproductive health. Some contain ingredients that pass through wastewater treatment and are toxic to aquatic life, like alkylphenols ethoxylates and 1,4-dioxane. Others have nitrogen and phosphorous, like laundry detergents, which can contribute to toxic algal blooms and fish kills in water bodies.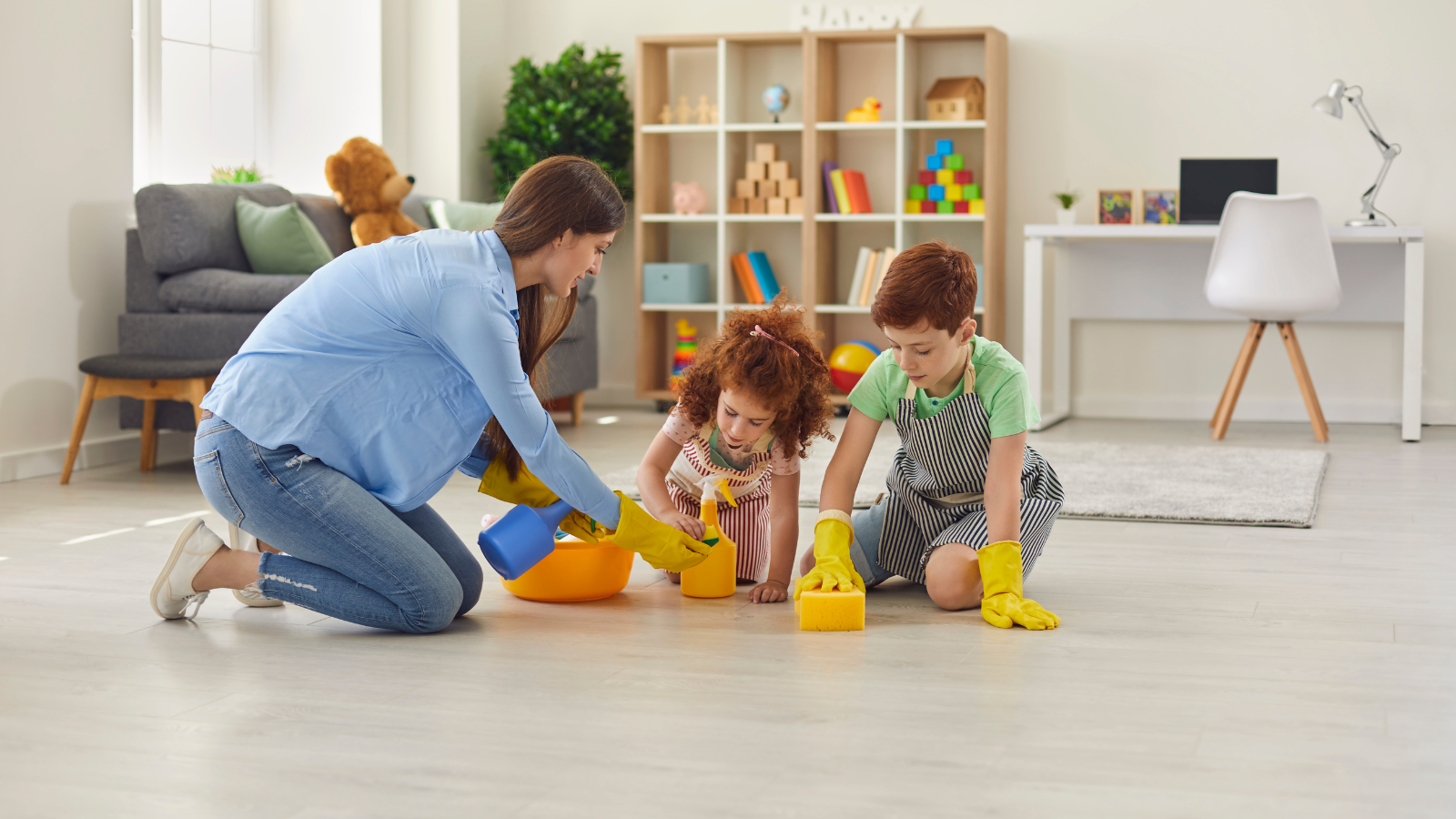 Not only can spring cleaning introduce harmful chemicals into your household, but it may also generate significant quantities of plastic and paper waste, as well as carbon emissions. Green cleaning aims to reduce our negative impact on the environment and contribute to a healthier Earth.
Here are some ways that you can put a little green elbow grease into cleaning this spring.
For Safety:
Read the ingredients! If you're not sure what the ingredient is, look it up. If the brand does not list all ingredients, move on.

Use non-antibacterial hand soaps. Antimicrobial ingredients such as Triclosan, contribute to the formation of antibiotic resistant bacteria. The FDA says that there isn't enough scientific evidence to say that antibacterial soaps are better than regular soaps at preventing the spread of illness anyway!

Make your own natural cleaners using ingredients like vinegar, baking soda, hydrogen peroxide, and essential oils.

Download an app that helps you to review products for toxicity. Some examples include Clearya, EWG Healthy Living, or Think Dirty, and more!

Purchase cleaners that are fragrance, phthalate, and dye free (but still check the ingredients).

Be suspicious of labels. Labels that say, "free and clear", "non-toxic", or "environmentally safe" are not always regulated and may still contain harmful substances.

Find products that meet the EPA's Safer Choice Standard.

Find a brand that is committed to clean ingredients and sustainable practices and stick with them.

If you need heavy disinfectant, such as to prevent the spread of COVID-19, use an EPA registered product. You can search for one here: https://cfpub.epa.gov/wizards/disinfectants/. Keep in mind that these products are only safe for the use of surfaces.

Use cleaners with spray pumps rather than aerosols to cut down on air pollution emissions.

Open windows and ventilate your house while cleaning to avoid concentration of hazardous fumes.
For Waste Reduction: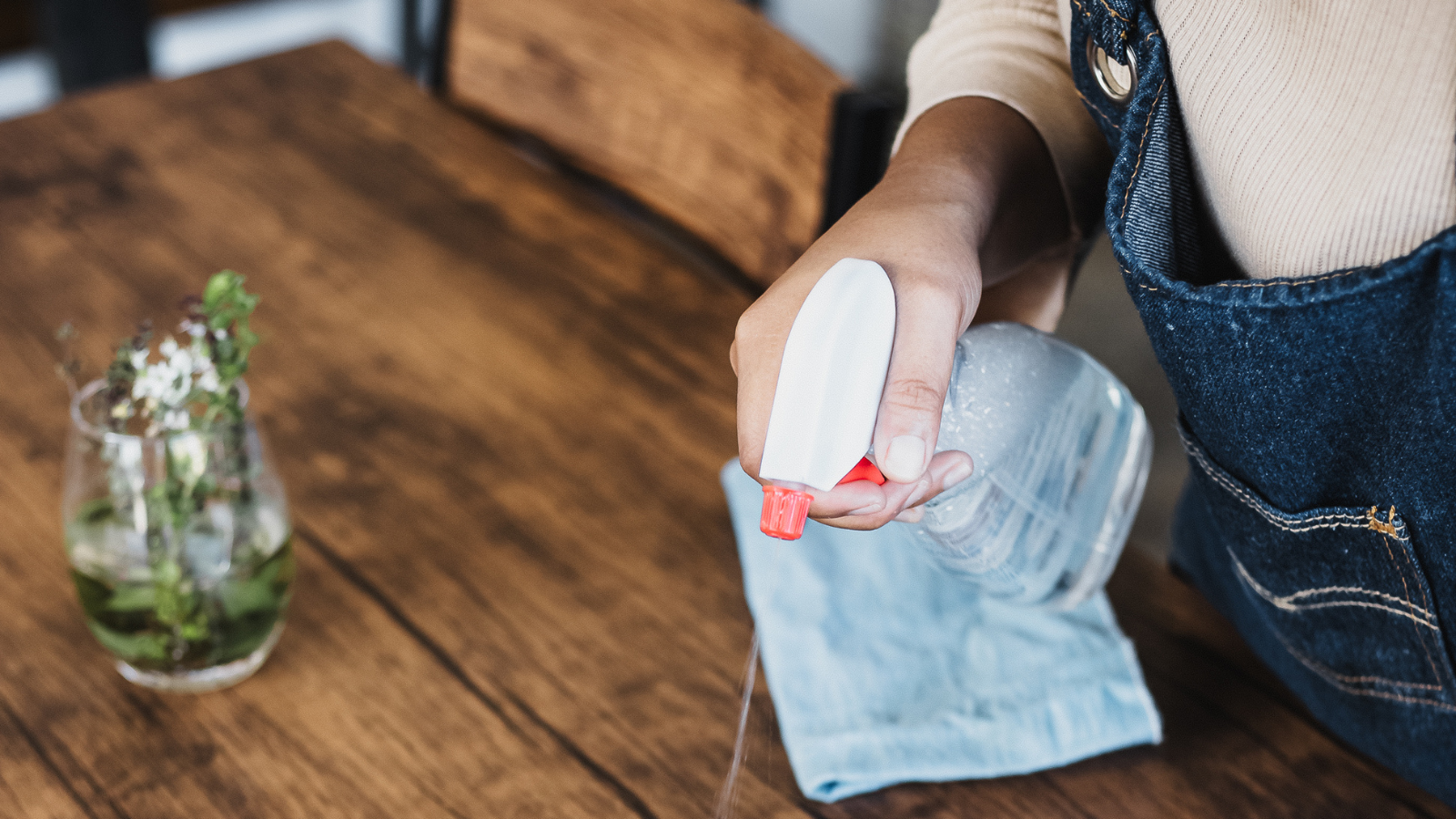 Use cotton rags, Swedish dish cloths, or cut up t-shirts that can be reused instead of paper towels.

Buy a squeegee to use instead of paper towels for cleaning mirrors and windows.

Use sponges and cleaning brushes made from natural fibers or recycled materials.

Find formulations that come in concentrate.

Use reusable spray bottles.

Try reusable spray-mop pads that you can throw in the washer once you're done.

Invest in high-efficiency appliances such as washers, dryers, and dishwashers.

Wash laundry on the cold setting to conserve power.

Use dryer balls instead of dryer sheets. You can even drop some essential oil on the dryer balls to freshen up the load.

Buy products that have minimal packaging, come in recycled plastic or packaging, or are plastic-free. These can be laundry detergent sheets or tabs or cleaning tab refills that dissolve in water.

Skip the rinse. Scrape plates in the trash, and then put them in the dishwasher.

Use your dishwasher. Dishwashers are designed to be more water-efficient than our hands (and are probably more effective at cleaning!).

Support brands that use renewable energy sources or use sustainable manufacturing practices.

Support plastic-free cleaning brands.
Other references: