Lynn Shores Drive Valve Site
Body
HRSD, your regional wastewater treatment utility, in coordination with the City of Virginia Beach, is planning a project in your neighborhood to install an automated valve located within an underground vault on an existing HRSD sewer pipe. This project will also improve the sewer system's performance and help provide continued, reliable sewer service in the future. The answers to some Frequently Asked Questions (FAQs) are provided here.
Project Overview
The project is located within the City of Virginia Beach right-of-way (ROW) at the southwest corner of the intersection of Virginia Beach Boulevard and Lynn Shores Drive. This project includes installation of a new automated valve located within an underground vault along an existing HRSD sewer pipe. A driveway for access to the vault will be installed off of the eastbound right-hand turn lane of Virginia Beach Boulevard, and an aboveground control cabinet will be installed next to the vault. The equipment and driveway will be installed within the City ROW. The contractor will maintain a clean job site and minimize traffic disruption.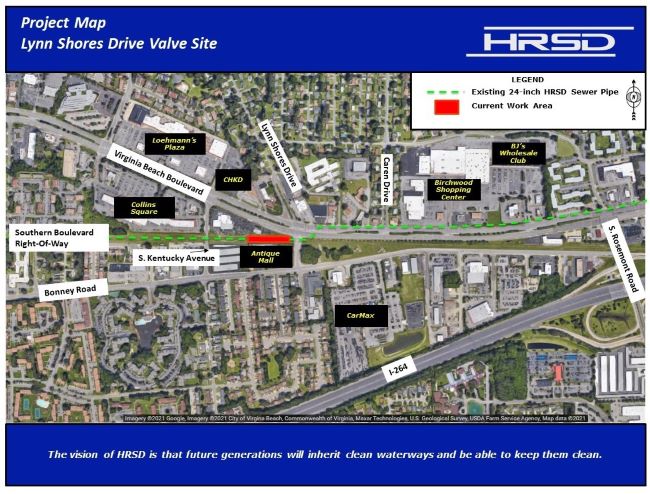 ​
Project Schedule
Staging: March 2021
Construction: Spring 2021
Restoration: Immediately following construction
Thank you for your support of this effort to help achieve HRSD's vision: Future generations will inherit clean waterways and be able to keep them clean.
You also may visit www.hrsd.com/newsroom for any project updates.
If you have any questions, concerns or comments about the project, please feel free to contact Lisa Bolen, HRSD Public Information Specialist, at 757.460.7000 or lbolen@hrsd.com.