Written by Lenzie Ward, P3 Specialist Published on December 16, 2022
Ho ho ho-ow can we make the holidays more sustainable? 

A 2021 survey of 2,000 Americans found that respondents estimated that they generated 43% more waste during the holiday season. That adds up to a whopping 29 extra pounds of waste per week, with wrapping paper, gift bags, and tissue paper as the main culprits. While we spend some time wrapping presents for our loved ones, you may also want to show the Earth some love by choosing more sustainable gift-wrapping options.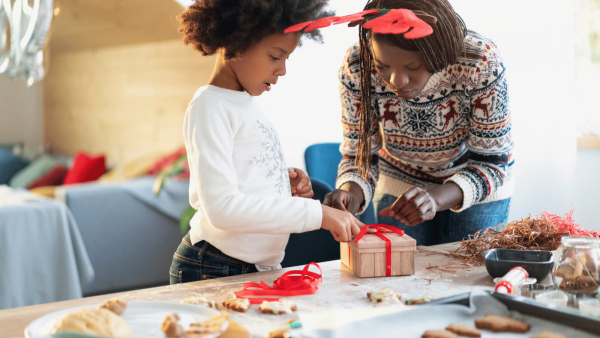 Here are some ways you can reduce your gift waste this year to spread peace on Earth and good will to all!
Ditch the tape. Learn new ways to wrap presents without the use of tape. Be eco-friendly and learn a new skill at the same time. Here's a guide to help you get started!
Simplify. Less can mean more. Decorate your gifts thoughtfully by not using excessive amounts of paper or materials.
Reuse gift bags. Save the gift bags you receive from others and regift them to others!
Collect string, ribbon, and fabric throughout the year. Have you ever received a gift basket or pajamas set wrapped in ribbon? Save it! Throw it in a shoebox and reuse it for your holiday wrapping.
Reuse shipping boxes and shipping supplies. Save boxes and packaging from online shopping. Use them for gift wrapping for the holiday season.
Reuse ribbon. Reuse that beautiful ribbon that was on the gift from Aunt Gene last year.
Gift, gift bags. Canvas or drawstring bags can work great as a gift bag with the added bonus of being a gift themselves.
Fabric or Furoshiki Wrap . Wrap your gift in a scarf, bandana, or tea towel. For extra aesthetic, learn some techniques in the Japanese art of Furoshiki, or fabric wrapping.
Use things around your house. Glass jars, containers, watering cans, baskets, buckets – the options are endless!
Newspaper. Upcycle old newspaper as wrapping paper. Try the comics sections, the crosswords, or even a foreign newspaper for an extra twist.
Natural materials. Pick a sprig from your Christmas tree, a dried flower from your garden, or a holly leaf to replace a plastic bow and bring a natural feel to your gift.
Recycled or compostable materials. If you would like to stick to wrapping paper, look for ones made from recycled materials. Same with ribbon, tape, tags, and labels!