Phoebus Area Sanitary Sewer Extension
Body
HRSD, your regional wastewater treatment utility, in coordination with the City of Hampton, is planning a project in your neighborhood to replace existing HRSD and City sanitary sewer pipelines and public sewer service connections that are nearing the end of their useful life. This replacement project will also improve the system's performance and ensure continued, reliable sewer service in the future. The answers to some Frequently Asked Questions (FAQs) are provided here.
Project Overview
The Phoebus Area Sanitary Sewer Extension project consists of replacing approximately 7,500 linear feet of 30-inch sewer pipe from the Willard Avenue Pump Station in the Phoebus section of Hampton to a sewer pipe connection on Queens Street near Mill Point Park in downtown Hampton. The proposed new 24-inch sewer pipe will connect to the following: the Willard Avenue Pump Station which is also being replaced, the HRSD-owned Hampton Institute Pump Station (Shore Road), through Hampton University (HU) property, the City of Hampton Pump Station (College Place), and the privately owned Hampton Harbor Pump Station (Mariner's Cove Road). The project also involves a directional drill underneath the Hampton River. The work for this project will take place on the following roads and associated intersections: Willard Avenue, Downes Street, S. Mallory Street, Cameron Street, Bainbridge Avenue, West County Street, Woodland Road, Settlers Landing Road, Emancipation Drive, Shore Road, and William R. Harvey Way.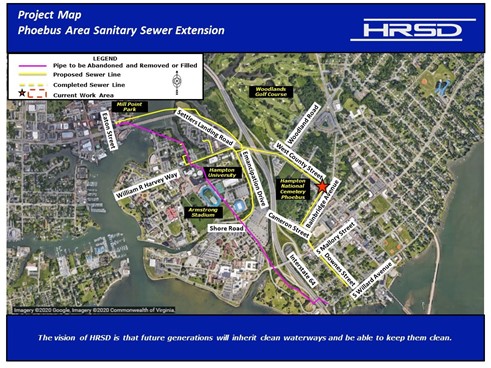 ​
Project Schedule
Staging: Spring 2022
Construction: Spring 2022 - Fall 2024
Restoration: Immediately following construction when seasonably appropriate
Thank you for your support of this effort to help achieve HRSD's vision: Future generations will inherit clean waterways and be able to keep them clean.
You also may visit www.hrsd.com/phoebus-area-sanitary-sewer-extension for any project updates. If you have any questions, concerns, or comments about the project, please feel free to contact Lisa Bolen, HRSD Public Information Specialist, at 757.460.7000 or LBolen@hrsd.com.