Sewer Manhole Rehabilitation Project
Body
Project Overview
HRSD, your regional wastewater treatment utility, is undertaking a project to rehabilitate and perform maintenance for an existing sanitary sewer manhole located at the intersection of 38th Street and Bluestone Avenue in Norfolk, Virginia. In order to achieve the rehabilitation needed for the manhole, the contractor will need to use bypass pumps to move the sewer flow through a temporary bypass pipe. These bypass pumps will be placed near the intersection, within the parking lane on 38th Street, and bypass piping will be placed under the road to a manhole on Bluestone Avenue that is north of the intersection. Temporary lane closures will be needed in order to place the piping. Once the system is in place, 38th Street will be open to traffic. Bluestone Avenue, south of 38th Street, will have a temporary lane closure during the day when the manhole will be rehabilitated, and traffic will be opened back up at the end of the day. Flaggers will direct traffic around the construction. The answers to some Frequently Asked Questions (FAQs) are provided here.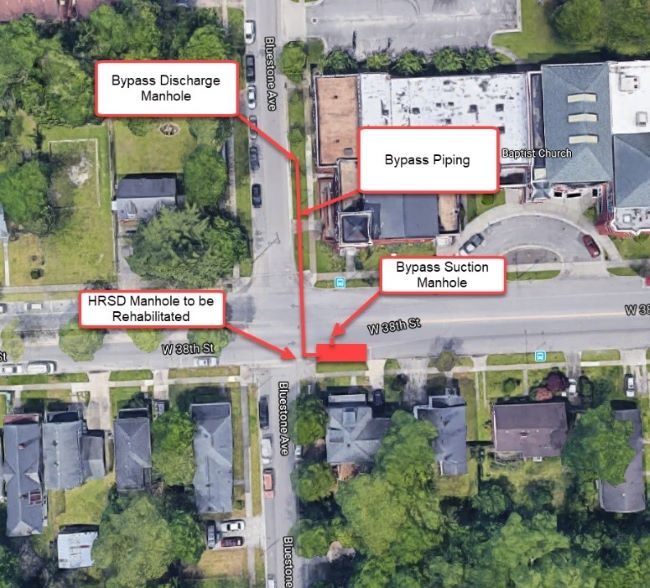 Project Schedule
Work should begin the week of July 27th
Work should be completed by the end of August
Bypass pumps should only run for a duration of 2 weeks during the work
Restoration of the road should occur in September
Thank you for your support of this effort to help achieve HRSD's vision: Future generations will inherit clean waterways and be able to keep them clean.
You also may visit https://www.hrsd.com/sewer-manhole-rehabilitation-project for additional information and project updates.
If you have any questions, concerns or comments about the project, please feel free to contact Lisa Bolen, HRSD Public Information Specialist, at 757.460.7000 or lbolen@hrsd.com.
Should you have any questions or comments, you may contact:
HRSD Public Information Specialist:
Lisa Bolen
(757)460-7000
lbolen@hrsd.com