Sewer Replacement Project Planned for Lee Street from 15th - 16th Streets
Body
HRSD, your regional wastewater treatment utility, is undertaking a phased, multi-year project to replace and upgrade identified portions of sewer infrastructure within the Town of West Point. This is part of a regional effort to reduce the risk of sanitary sewer overflows during heavy rain events such as Nor'easters or hurricanes. The project will also improve the system's performance and ensure continued, reliable sewer service in the future.
Project Overview
The first of these phased projects will occur within a portion of Lee Street between 15th and 16th Streets (see map below). This work will include the replacement of 300 feet of sanitary sewer pipeline and connecting public lateral pipes, 131 feet of sewer force main and rehabilitation of three sewer manholes in need of repair.
Project Schedule
Staging:
Beginning early July
Construction:
Construction is anticipated from Summer 2018 - Fall 2018
Restoration:
Immediately following construction
You also may visit www.hrsd.com/construction-status for additional information and project updates.
Thank you for your support of this effort to help achieve HRSD's vision:
Future generations will inherit clean waterways and be able to keep them clean.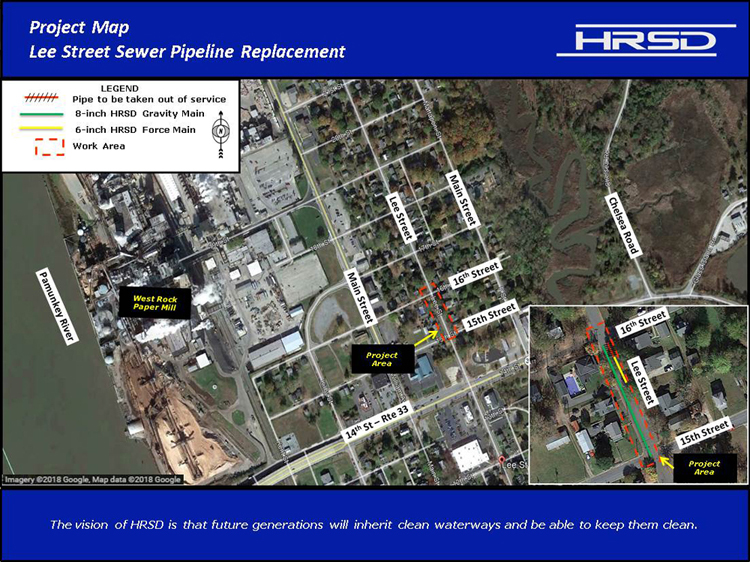 PO Box 5911, Virginia Beach, VA 23471-0911 • 757.460.7000
Commissioners:
Frederick N. Elofson, CPA, Chair • Maurice P. Lynch, PhD, Vice-Chair • Vishnu K. Lakdawala, PhD Michael E. Glenn • Stephen C. Rodriguez • Willie Levenston, Jr. • Ann W. Templeman • Elizabeth A. Taraski, PhD
www.hrsd.com