Laskin Road Pumping Station Improvements
Body
HRSD, your regional wastewater treatment utility, is undertaking a multiphase project to decommission its Chesapeake-Elizabeth Treatment Plant (CETP), built in 1965, located at 5332 Shore Drive, in the City of Virginia Beach. An extensive study determined it was more advantageous to upgrade parts of the sanitary sewer system throughout the city rather than upgrade existing treatment plant process systems to meet the Virginia Department of Environmental Quality requirement to reduce treated discharges to the Chesapeake Bay. As part of this larger initiative, improvements will be made to pumping stations throughout the City. These stations each require upgrades to internal equipment and some structural modifications. The answers to some Frequently Asked Questions (FAQs) may be found here.
Project Overview
One of the pumping stations requiring improvements is the Laskin Road Pressure Reducing Station located at 590 Fremac Drive. These improvements are needed to handle the increased flows along this corridor and improve station reliability. Most of the work will take place inside the pumping station. Work may be performed outside the pumping station to remove existing pipes and pipeline connections that are no longer needed. This work should not affect your water or sewer services.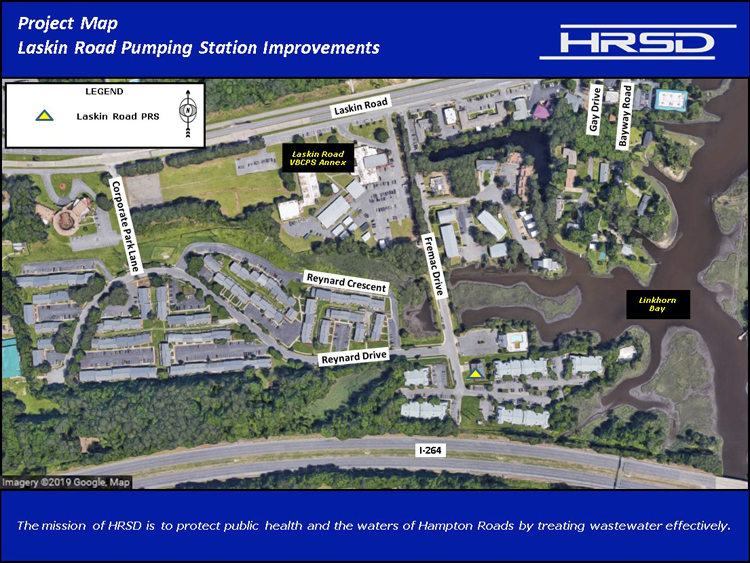 Project Schedule
Staging: March 2019
Construction: April 2019 - Winter 2020
Restoration: Immediately following construction
Thank you for your support of this effort to help achieve HRSD's vision: Future generations will inherit clean waterways and be able to keep them clean.
You also may visit www.hrsd.com/pumping-station-system-improvements for additional information and project updates.
If you have any questions, concerns or comments about the project, please feel free to contact Lisa Bolen, HRSD Public Information Specialist, at 757.460.7000 or lbolen@hrsd.com.