15th and 16th Streets Sewer Replacement
Body
HRSD, your regional wastewater treatment utility, in coordination with the City of Newport News, is planning a project in your neighborhood to replace the existing HRSD sanitary sewer pipelines that are nearing the end of their useful life. This replacement project will also improve the system's performance and ensure continued, reliable sewer service in the future. Please see the Frequently Asked Questions (FAQs) for additional information.
Project Overview
The project involves replacing an existing 36-inch sewer line that has corrosion issues. The new sewer line will run from Monitor Merrimac Overlook Park along portions of 15th and 16th Streets to Jefferson Avenue. A sewer pipe will also be placed underneath Salter's Creek, which will be accomplished with a horizontal directional drill. This project will ensure that the aging sewer infrastructure is replaced to help avoid possible failures that would result in sewage spills. Comprehensive traffic control plans will be implemented to minimize inconvenience. Intersections to be affected include 16th Street intersections with Oak Avenue, Chestnut Avenue, Roanoke Avenue, Rolfe Place, Marshall Avenue, and Madison Avenue. The intersection of 15th Street and Wickham Avenue will also be impacted.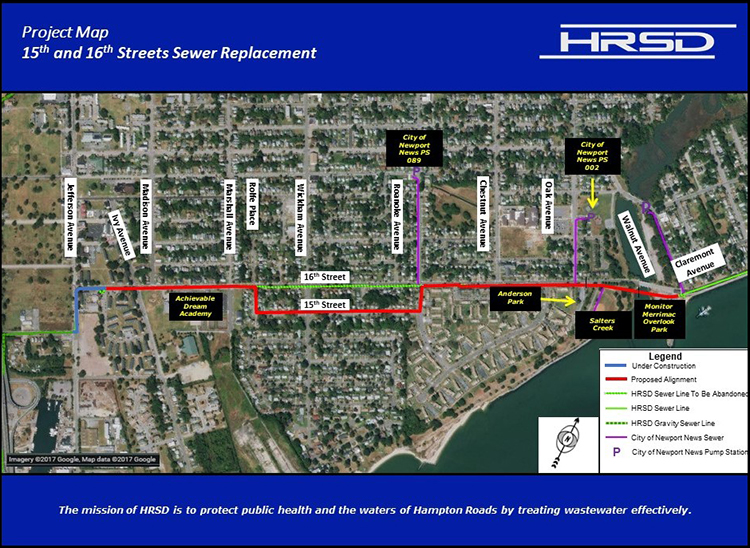 Project Schedule
Staging: October 2020
Construction: Winter 2020 - Spring 2022
Restoration: Immediately following construction
You also may visit www.hrsd.com/15th-and-16th-streets-sewer-replacement for additional information and project updates.
If you have any questions, concerns or comments about the project, please feel free to contact Lisa Bolen, HRSD Public Information Specialist, at 757.460.7000 or lbolen@hrsd.com.
Thank you for your support of this effort to help achieve HRSD's vision: Future generations will inherit clean waterways and be able to keep them clean.