Dear Neighbors:
Body
HRSD, your regional wastewater treatment utility, invites you to view a virtual presentation to learn more about the Surry Hydraulic Improvements and Sewer Installation project. The project is located in Surry and Isle of Wight counties and the Town of Smithfield and will be completed over four sections:
Section 1 includes installation of a new pump station at the current Town of Surry Wastewater Treatment Plant site at the end of Connie Drive and a buried pipeline from the treatment plant along Rolfe Highway to the intersection of Rolfe Highway and Colonial Trail West.
Section 2 includes installation of a buried pipe that begins at Marina Drive and goes to the northern edge of town and is located along Rolfe Highway.
Section 3 includes pump stations and buried pipes and begins at the Surry West Industrial Park located along the Dominion Energy Easement between the Surry West Industrial Park and Colonial Trail East, and along Colonial Trail East and Route 10 Business to Smithfield. Pump stations will be located at the Surry West Industrial Park, Mt. Ray Drive, and Blounts Corner Road.
Section 4 includes the demolition of the existing Town and County Wastewater Treatment Plants.
View the presentation at your convenience and…
See the project route
See the project objectives and possible impacts
Submit questions about the project to representatives of HRSD and our engineering consultant
The presentation will be available until December 31, 2020 at the following web page:
www.hrsd.com/Surry-Hydraulic-Improvements-Presentation
 
If you are unable to access or view the online presentation and would like to obtain more information, share your concerns, or arrange to speak with project staff, please contact: Lisa Bolen, HRSD Public Information Specialist, at 757.460.7000 or lbolen@hrsd.com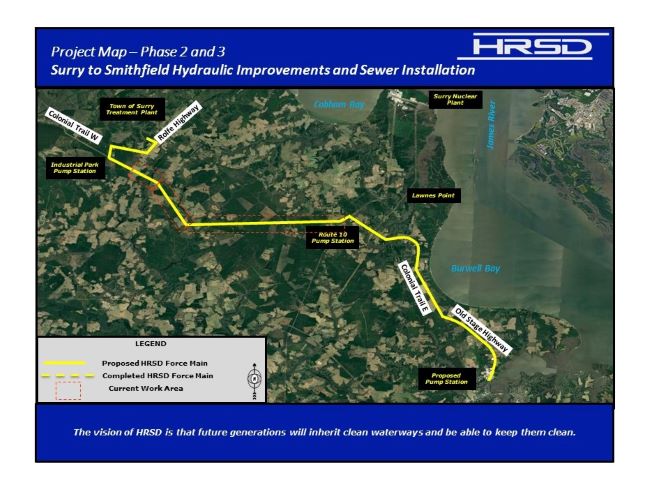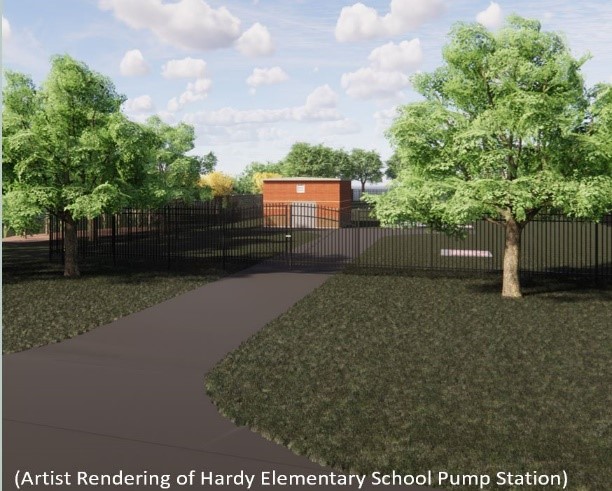 Anticipated Project Schedule:
Construction Activities (including site restoration): Currently – Early 2023