Written by Christel Dyer, Chief of Treatment at Atlantic/Boat Harbor/Nansemond Treatment Plant Published on April 22, 2021
Out with the old and unused, and in with the secondhand gently used!
Spring is a time for deep cleaning, decluttering, and bringing more sustainability into our lives.  Last month, I decided to finally go through my entire wardrobe, shoes and all, and get rid of the items that I had not worn within the last year. 
Why do I keep hanging on to items that no longer fit?  I liked the idea of some of the tops that I purchased while thinking I could pull off being a fashionista, but the fact that I even just used the word "fashionista" shows how uncool I am when it comes to being high fashion and trendy.  I do not look hip (yup, hip) in those tops, so I should pass them along to someone who can pull off the look! 
Deciding Where to Donate Clothes

I gave myself a solid half day to undergo this effort.  I had saved three boxes from the many online orders for food and goods during these COVID-times.  I labeled each of these boxes as "Donate," "HRSD," and "Recycle."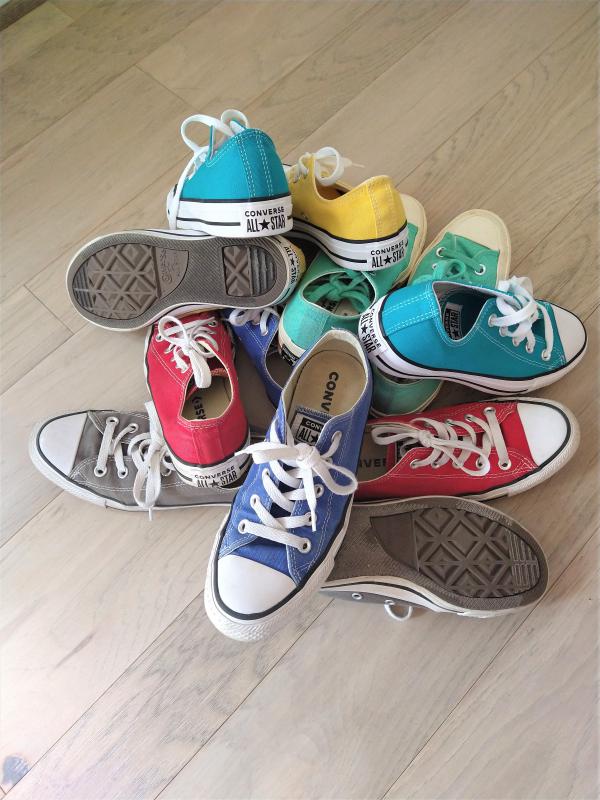 I guess I should explain what the "HRSD" box entails.  I have worked for HRSD for nearly 17 years, and I have kept some of my HRSD shirts just as long.  I did not want to donate the HRSD shirts for fear of some small teenager or large child impersonating an HRSD employee (I should mention that most of my shirts are XS or S).  I figured that I would just bring the box in to one of the treatment plants for those who are my size and wish to have some vintage HRSD gear, and the remainder could be used as rags for our mechanics. 
My Closet Decluttering Process

I methodically went through each item in my closet and dresser, separating each piece accordingly.  The process went much quicker than I expected, and by the time I was finished, my closet was much lighter and brighter with its new emptiness. 
In the end, I had two boxes to be donated to a local charity, and the textile recycle box was also filled with tattered and torn items that I really should not have held onto for so long (you all with the holes in the knees of your jeans stretching from your shin to your thigh know what I am talking about here).
Deciding Where to Take Worn Items for Textile Recycling

Finding a worthy location to donate clothing was the easy part; finding a place to take my worn items for recycling became more difficult than I had anticipated. There are no local opportunities for textile recycling! 
My options:
I could buy a box through TerraCycle, but that is pricy.

I could use the clothing as rags around the house.

I could contact the HRSD SEA team and convince them to make a case for a textile recycle location for HRSD employees!  This one is still out for debate, but I am optimistic.

Until one of these options comes into fruition, the box is sitting in my closet!
Buying Clothing Sustainably

With my closet and dresser now on the lighter side, I realized that I needed a few more staples, such as summertime shorts.  To stay on this sustainable theme, I am determined to pursue only gently used, secondhand clothing, and surprisingly enough, this is trendy nowadays!  Ha, I may be cool yet! 
Online shops like ThredUp and Poshmark and Kidizen for kids have literally hundreds of options, many of which are name brand!
Now it is your turn to give it a try!
I am no Marie Kondo, but I will admit that having a decluttered closet is one of the little things that makes me happy. I also love that I am taking one more step towards a more sustainable lifestyle which is never a bad thing!